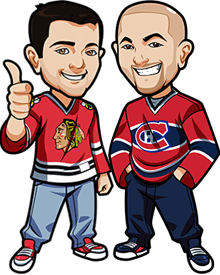 Written by Graeme & Scott on Friday, April 27th, 2018
Follow @BetNHL
The 2nd round of the NHL playoffs are off to a great start, and a good sign for our playoff series bets. We tipped Pens to win and Knights -1.5 and both got off to pretty darn good starts.
The Penguins overcame a two goal deficit and turned the game on its head in the space of 5 minutes as they won 3-2. Penguins had been the better team and deserved the win, although Murray had to make a couple of key saves. This has all the makings of a really competitive and tight series and we hope it goes all the way to Game 7.
The Sharks vs Knights game was slightly less competitive. The Knights absolutely destroyed the Sharks 7-0 in an absolute thumping. Vegas continues to stun and last nights performance was just incredible.
It's going to make for a very intriguing game 2.
The Jets vs Predators series kicks off today and we'll be analyzing that one here. Tomorrows tips will include our Lightning vs Bruins series predictions, as well as analysis on the other game tomorrow, Knights vs Sharks.
Let's get to it:
Predators vs Jets Series Betting Tips:
Scott: This might be the series of the playoffs.
It's the top two teams from not only the West but the entire league.
 
This could be a physical series, which it will, or a skill series.   Both teams are big and able to handle no matter what you those at them.
It sucks as these were the two teams I was pulling for to go through but only one can prevail.
It's so tough to call this.   Pekka Rinne is one of the best in the league and Hellebuyck set records for American born goalies this year.
The Preds have the best Defesne in the league and their forwards are amazing too.  The Jets have a strong D and their forwards are also strong
Predators in 5
Graeme: I googled "What's the opposite of rose-colored glasses?" to try and explain how I feel about the Predators but there doesn't really seem to be a consistent answer on that. So here's the deal; while I'm able to obviously view and appreciate the quality of that team, I still have a very negative view of them in regard to being able to trust them.
It all stems from the regular season – most of last season and then in the early days of this season. They were a team where I would see the obvious quality and I'd see a game I felt confident on and I'd back them….and they'd lose. And this wasn't just the odd time – my winning ratio for Predators picks is just 13%.
It got so bad that I stopped picking them around November this season. When they'd come up for discussion in tips – and they came up a lot – I'd have to say to Scott "If you like it we'll go with it I refuse to even look at it".
So I'm able to admit that my view of the Preds here is not completely unbiased. It's not that I view the team negatively or anything it's that they've burned me so many times it's hard to get my confidence levels up for them.
In the 1st round, the Jets won 4-1 however that result needs an asterix beside it. Minnesota had some key injuries and the Parise one was the killer one – that completely messed them up. If it wasn't for that I expect that would have went all 7 games based on the first 3 games.
The Preds did a solid job against the Avs however the Avs were feisty and picked up two wins – one in Nashville – and showed the Preds have holes. The Preds got that convincing 5-0 win over the Avs in Game 6 but Hammond was in net and it looked like the Avs just ran outta steam.
So I think this one is going to be a lot more competitive and I think the Jets are going to win all their home games. I also think back to the regular season and what a bounce back team the Jets were. Sure there was the injury but they still bounced back in the playoffs as well after losing to Minnesota, so I could see them stealing Game 2 if they lose Game 1.
Like I said to open this – it might just be a case of not having as much faith in the Predators despite recognizing their obvious quality. However during the regular season the team that won me the most amount of money was the WInnipeg Jets, and the team that cost me the most was the Nashville Predators.
So I've got to go with the team that got me here – Jets to win.
Based on the regular season results this should be a great and high scoring series. So regardless of who wins, let's hope that's the case.
(Odds correct as of 2018/04/27 6:10:15 AM EST but are subject to change.)
Follow @BetNHL
BetNHL.ca » Tonights Tips » Predators vs Jets Series Betting Tips