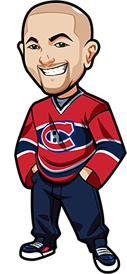 Written by Graeme on Saturday, October 19th, 2013
Follow @BetNHL
We went 1-1 last night, for a slight loss. We had both favourites backed and both games went to a nerve-wracking shootout. St Louis blew their lead twice in the game against the Jets before succumbing in the shootout, while Anaheim scored a late one to tie it up, and went to a great shootout where they managed to come out on top.
Been a tough week with the tips but it happens – we had so much ridiculous rungood last season we were due for a bad period. Hoping for a nice night tonight to get us kicking again. A lot of games tonight and some really interesting odds. The Sharks are 1.37 favourites to beat the Flames for example – quite crazy considering Calgary have actually played fairly well this season.
While we're not giving it as an official tip we've already been asked this morning about the Leafs-Blackhawks game as we've got quite a lot of Leafs/Blackhawks followers. If you're betting on that one we'd recommend backing the Leafs. The 2.60 odds at Bovada for Americans and http://www.Bet365.com for everyone else. are great considering Chicago are barely scraping by every game with 1 goal(when they win) and Toronto have won a lot of their big games. Plus Leafs on the road seem to do a lot better than at home and are currently unbeaten away – so if you're looking to bet that one, we'd lean towards the Leafs.
Let's get to the official tips for tonight:
Sabres vs Avalanche: Avs To Win
Colorado had their first loss on Thursday against the Red Wings. That was a slight blip on an otherwise excellent season thus far – they've managed to rack up big wins against the Capitals, Bruins and Leafs – all 3 of them on the road.
Buffalo have been very poor this season, and we like the Avs to kick them when they're down. The Sabres defense is really bad at the moment, and Colorados offense should tear them to shreds. The team performance of the Avalanche is sensational with every player except Ryan Wilson on the board with at least 1 point, and we like them to bounce back tonight.
Back the Avalanche at 1.71 odds at http://www.5Dimes.eu for Americans(Need to register to see lines) and and http://www.Bet365.com for everyone else..
Rangers vs Devils: Rangers To Win
Both of these teams have been very poor this season, however the Rangers got some self-belief when they defeated the Capitals 2-0 3 nights ago. They've had some time off to reflect on that. The big news coming out of the Rangers camp is that Ryan Callahan is out for almost a month – but is that really such a bad thing? I could see it being a big deal if they were winning – but when you lose the guy who captained your team to a 6-0 loss against the Ducks and a 9-2 loss against the Sharks it's not that big of an issue.
The more important news is that Brad Richards is starting to play hockey again. Richards nabbed two assists against the Capitals, and this is going to be a big game. Both teams have had the really bad start but Rangers are the better team. Devils meanwhile seem to be all over the place still – switching their line-ups around and yanking Larsson in and out with no consistency.
In what will be a big game, we like the Rangers to do the business. They are the underdogs here and the 1.95 odds are a great price over at Bovada for Americans and http://www.Bet365.com for everyone else..
Islanders vs Hurricanes: Over 5.5
This should be a good divisional battle – and we like the goals to come fast and furious in this one. The two have been polar opposites – Islanders usually start strong but can't finish, while Carolina seem to start a bit slow before having a huge third period.
Kudobin is out for the Hurricanes, and Ward has been conceding 2.81 per game. Lot of young players on the ice in this one which should make for a nice fast-paced game.
We're getting a good price of 1.95 odds for the Over 5.5, so back that at http://www.5Dimes.eu for Americans(Need to register to see lines) and and http://www.Bet365.com for everyone else..
Follow @BetNHL
BetNHL.ca » Tonights Tips »