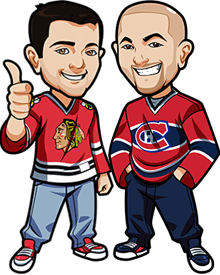 Written by Graeme & Scott on Tuesday, September 1st, 2020
Follow @BetNHL
it was a fun day in the NHL yesterday. We had an intense Bruins/Lightning game as the Bruins did their best to hold on and force a Game 6. That wasn't the case as it went to double OT and Tampa were able to sneak the win. Vasilevskiy had 45 saves in that one. Props to the Bruins for giving it their all.
Tampa are 2nd favourites at most sportsbooks to win the cup however are the favourites at some books. The other team is of course the Knights.
The Colorado Avalance got off to a decent little start yesterday as they went 5-0 in the 1st period over the Stars. Stars went with Bishop and well in retrospect mayb enot the best move. Avs won 6-3 in a big one.
We're right back at it with two games taking place today. Islanders and Knights both look to progress. They lead 3-1 in their respective series.
Islanders vs Flyers Betting Tips:
Graeme: I think the worst thing about covering the playoffs when it comes to betting tips is you often sound like a broken record. I've went with Islanders 3x and mixed it up the once when I went with the 1st period to be the highest scoring period.
So backs are against the wall for the Flyers. Are they able to overcome Trotz? It's tricky when it comes to betting as it's really about Hart and if he can step up. Flyers need one of his epic performances to save his season here.
Flyers have been regressing and it'll take a big effort from them tonight to get going. Not sure if they have that in them or not honestly. Islanders have continually played good and the rolling xG share for the Flyers is sinking fast.
Betting wise I backed the Islanders to win the series and I'm happy to ride that out. From a game perspective I could see them wrapping it up here. If they don't I'll probably look for prop bets going forward.
Islanders to win incl OT
Scott: The Isles seem to have the Flyers number. The series is now 3-1 Islanders and in the Flyers only win they needed overtime to accomplish it.
Greiss played great when he got the start on the 2nd half of back to back games and Pageau has been amazing for the Isles. It seems as though eveything is going perfect for New York and they now have a chance to move onto the Eastern Conference finals for the first time since 1993.
With the way this series has gone to this point its hard to see it going any other way then an Islanders win.
Islanders win incl OT
Canada: 1.84 Odds at BetOnline..
USA: -119 Odds at BetOnline..
Everyone Else: 1.84 Odds at BetOnline..
(Odds correct as of 2020/09/01 10:47:09 AM EST but are subject to change.)
Canucks vs Knights Betting Tips:
Graeme: I'm 3-1 on this series so far. I was happy with being able to call the under in Game 3 as I always struggle with unders. I was able to call the Over in both Game 2 & 4 correctly based on the fact that I believed the Canucks would bring the goals.
Canucks had the big effort last game before being destroyed in the final period. Can they pick themselves up for this game?
I honestly don't know ha. I feel like the Knights will get the goals but not sure Canucks will match tonight. Knights team goals I'd have to take over 3.5 which is only 1.76 and is brutal.
The more I look at it I think Knights wrap it up tonight. However I'd have to take in regulation and the odds on that are a bit off-putting. Their final game against the Hawks was a close one goals wise. I'm going to go with No Bet as I just can't figure out whether the Canucks can bring the heat or not tonight. I hope they do.
Scott: Another series where everything is going right for one team. The Knights went with Fluery in game 4 after playing the night before and he picked up the win to give the Knights the 3-1 series lead.
There really isn't much to say here. The Knights have this series all but in the books. All 3 of their wins have been in regulation so I'll go with that for this game.
Knights win in regulation
Canada: 1.72 Odds at Sports Interaction (SIA) + free $20 bet.
USA: -145 Odds at BetOnline..
Everyone Else: 1.72 Odds at 888 Sports.
(Odds correct as of 2020/09/01 10:47:09 AM EST but are subject to change.)
Follow @BetNHL
BetNHL.ca » Tonights Tips »