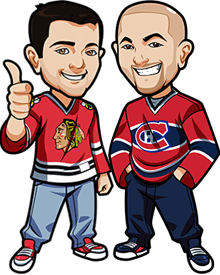 Written by Graeme & Scott on Friday, September 4th, 2020
Follow @BetNHL
The Vegas Knights incredibly got shut out yesterday as the Canucks got a stunning 4-0 win over the Knights. Demko stood strong with a whopping 48 out of 48 saves.
Absolutely amazing stuff and the Knights have to be concerned going into Game 7 now.
Speaking of concerns the Islanders have to be as well. Flyers offense has started clicking again and it's at just the right time as they are have now pulled that one back to a tied series. Despite conceding the goals Hart is still the man that is saving the Flyers and is easily the best goaltender of the playoffs.
Just amazing. Going to be two thrilling Game 7s.
One of those takes place tonight. God what a great two days it is going to be for hockey. We've got the Dallas Stars vs Colorado Avalanche game starting at 4pm EST then the Canucks vs Knights game. Both Game 7s, both absolutely intense.
Here's our thoughts:
Stars vs Avalanche Betting Tips:
Graeme: Kuhdobin is in net for the Stars. I don't believe Avs have confirmed if Clutchison is in net. Stars are slight underdogs with the over/under at 6.
While it would be easy to shy away from these games – I think when it comes to Game 7, it almost feels like our duty to pick a winner. Anything else is a cop out.
I'm going to take the Avalanche to win. I focused today on looking at the advanced metrics and when I did that – the Avs just stood out to me as the better team over this series, and the team that deserves to go through. Even if Hutch is in net and doesn't perform – Avs offense can still win it for them. They have the weapons.
Honestly I won't be too sad if that doesn't come in. I have really got hooked by the Stars due to this series and have been rooting them on. Love how their offense came alive. But me it it's time for the better side to progress. Especially when you look at the metrics over the last couple. I feel good about this bet in my head. My heart says I want to cheer the Stars on but I think this is the right play. Rantanen is surreal. Avalanche incl OT
Canada: 1.84 Odds at BetOnline..
USA: -118 Odds at BetOnline..
Everyone Else: 1.84 Odds at BetOnline..
(Odds correct as of 2020/09/04 1:28:30 PM EST but are subject to change.)
Scott: Well the Avalanche found a way and have forced a game 7.
The Stars are the underdogs here. They won the first two games of this series, lost one, won the next and then the Avs won two in a row.
With the Avalanche having Hutchinson as their goalie at the moment it doesn't give me a pile of confidence in them to win this game. Sure they have the players to run the score up but can Hutch have another good game?
I think there is decent value in taking the Stars in what's sure to be a good game.
Stars win incl OT
Canada: 2.15 Odds at Sports Interaction (SIA) + free $20 bet.
USA: 2.07 Odds at BetOnline..
Everyone Else: 2.07 Odds at BetOnline..
(Odds correct as of 2020/09/04 1:28:30 PM EST but are subject to change.)
Canucks vs Knights Betting Tips:
Graeme: It's mind blowing seeing what is happening to the Knghts. Nothing bad is happening with their play – it's just variance. Lehner is playing completely fine and it is just high quality shots beating him.
Similar to above – I feel the Knights are the better team. If the Canucks are able to get past them then good on them – I love me an upset. Knights have been the favourites or thereabouts for the cup since it began. No-one gave the Canucks a chance. They have a surreal xG differential and are just so good. Canucks on the other hand have such a low xG yet still seem to be able to find the goals.
Gotta go with them here. The world of hockey rights itself tonight.
Knights in Regulation
Scott: No rest here. These teams played yesterday and now play a game 7 today.
The Canucks won and now have a chance to move onto the Western Conference finals if they can win this game. The Knights are having a hard time beating Demko, who made 48 saves in the shutout, and they will need to figure this out and fast. But they have a deep team offensively and they should be able to get to him.
It's going to be another great game but on paper the Knights are the much better team and I have to take them to go to go the next round. If Demko stands on his head for the 3rd straight game then so be it and the Canucks will deserve the win. But I'm going with Vegas
Knights win in regulation
Canada: 1.75 Odds at 888 Sports.
USA: -145 Odds at BetOnline..
Everyone Else: 1.75 Odds at 888 Sports.
(Odds correct as of 2020/09/04 1:28:30 PM EST but are subject to change.)
Follow @BetNHL
BetNHL.ca » Tonights Tips »