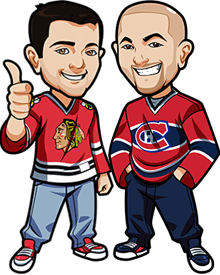 Written by Graeme & Scott on Tuesday, May 17th, 2016
Follow @BetNHL
After a great first period, the Penguins game fizzled out last night with no goals for the remaining two periods. The Penguins tried and hammered Vasilevskiy with the puck but he stepped up throughout the game to keep the Tampa in it. It went to overtime where Crosby scored almost immediately to tie the series up 1-1.
It's a credit to the Lightning though who went down 2-0 within 10 minutes and were able to fight back.
Tonight sees Game 2 of the Western Conference finals, as the San Jose Sharks visit St. Louis to take on the Blues. Let's get to the betting tips for this one:
Scott:  I expect this series to go long.  The Sharks out shot the Blues 32-23 in their game 1 loss so if they can get another effort like that then they stand a good chance.  Plus their power play was shutout for the first time since game 2 of last round.  So as long as the Blues keep yanking on the Sharks players beards then  they will have more powerplay opportunities.  I'm going with the Sharks in this game and hoping they regain their road form.
Sharks Win
Graeme: It's so weird looking at the Canadian media for this series – there's a strong anti-Blues vibe. The media after Game 1, where the Sharks lost, acted like they should just cancel the rest of the series and let the Sharks progress to the finals based off how good they were.
Even the previews for todays games have a similar vibe. Talking about how the Sharks only got 3 power plays in Game 1 and acting like the Blues booted them all over the ice, and citing the fact that the Blues are a "Top 10 penalized team in the regular season". Which they were – but the Sharks are no saints either, with the 6th most majors during the regular season.
Things like that are always interesting because they stir the emotion in me and emotions are what affects bets the most. I really had no horse in this race but after game 1 I'm rooting for the Blues and hoping they beat the living shit out of the Sharks on the ice AND get away with it. Of course a lot of this is just the media trying to tack a 'story' onto the series but it still gets to me.
I like the odds of Over 5 tonight. It's a good price. If you want to add on the theory that the Blues start tight in Game 1s(1-0 over Hawks, 1-2 vs Stars) and then open up more it's a nice way to justify it.
Quick Note for Americans: For Euro 2016 Betting, go toBovada who offer a 50% to $250 bonus and the best markets for Euro 2016.
Follow @BetNHL
BetNHL.ca » Tonights Tips »