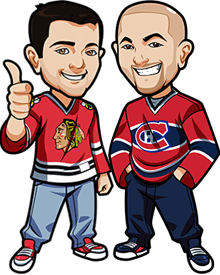 Written by Graeme & Scott on Tuesday, June 3rd, 2014
Follow @BetNHL
Well it starts today. The 2014 Stanley Cup Finals sees the New York Rangers take on the Los Angeles Kings.
We will have our opinions on the series a bit later today. Right now however we are going to cover a variety of betting props that are available.
Please Note: All of these props are available at Bovada however will disappear fast. Be sure to register quickly to take advantage of them because Bovada usually only have props up for 1-2 days max.
As always, Bovada has some amazing series specific betting props for the series. We are going to go over a couple of them but for the full list of available props be sure to head to Bovada and check it out. There are some awesome props. You can bet on where the series will end, over/under points per player during the series, the exact result of the series and many, many more.
Who Will Win the 2014 Conn Smythe
This is awarded to the most outstanding player in the playoffs and almost always to a player from the winning team.
Who do you think is going to win the series? And which player played the biggest role in getting them there?
If the New York Rangers Win the Cup
For the Rangers you are down to a three horse race. First you have Ryan Mcdonagh who has been reliable from the back end and has out up decent points. The. You have Marty St. Louis who lost his mother during these playoffs and even with his age getting up there has been super productive and incredibly important to the Rangers success. Lastly we have Henrik Lundqvist. He has been amazing and in my opinion has carried this team all year and during these playoffs.
Ryan Mcdonagh – 31.00
Martin St. Louis – 8.00
Henrik Lundqvist – 3.50
You gotta go with Lundqvist here. He has been unreal all playoffs and has stood on his head for lots of games. If the Rangers win the Cup it's because of Lundqvist and he will win the Conn Smythe.
Back this at Bovada.
If the Los Angeles Kings Win the Cup
Quick has been hot and cold all playoffs but the success of this team also comes down to three players four of you count Doughty.
First off this team is led by Anze Kopitar. He has been solid all playoffs and leads the NHL in playoff scoring. Next there is Jeff Carter. He has scored some big goals and has gone on extended point streaks during these playoffs . Last is Marian Gaborik. A huge deadline acquisition who has came through big time
Anze Kopitar -5.00
Marian Gaborik – 8.00
Jeff Carter – 9.00
I think if the Kings win the Cup the Conn Smythe will go to Kopitar. He has been solid all playoffs and is partly responsible for the playoffs that Gaborik is having.
Head to Bovada and bet on the 2014 Conn Smythe Winner
Player Props
Each player has a number and it's up to you to predict if during the finals that player will have more or less then the number of points. There is a large list of available players so be sure to check at Bovada for the complete list
Anze Kopitar – 5
Gotta like Kopitar's chance at putting up more than 5 points. At times he's looked dominate. And with Gaborik on fire you can expect Kopitar to be in on his goal.
Bet Anze Kopitar over 5 points
Jeff Carter – 4
Going to go with Over for this one as well. Carter has out up 4 points in a single game in these playoffs. This is an easy bet.
Rick Nash – 4
Nash has been invisible at times during these playoffs. And against a fast team like the Kings he could be in trouble. I'm betting Nash under 4 points
Chris Kreider 3.5
Chris Kreider can have a great game then disappear for a little while. But he was a thorn in the habs side and was very effective. I expect him to have a decent series here so bet Chris Kreider over 3.5 points.
Be sure to head to Bovada for the complete list of available props and to bet the above.
Back later with us analyzing the final itself.
Follow @BetNHL
BetNHL.ca » Tonights Tips »