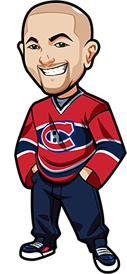 Written by Graeme on Friday, June 2nd, 2023
Follow @BetNHL
It's Stanley Cup Final time!
Very fun from a viewing perspective, but never that fun from a betting perspective I find.
Give me a Saturday matinee Ducks vs Sabres game with both teams on a back to back over the Cup Finals any day when it comes to betting.
I usually just make one bet on a team to win, then will do a random few player props. Betting tips might be a bit light for the rest of the cup. Pretty standard here. I mean we're all watching together, and often the data isn't as big a factor due to it being – well – the Stanley Cup finals.
Here's our thoughts on the Knights vs Panthers:
Knights vs Panthers Series Betting Tips:
Scott: They played twice during the regular season with each team winning once.
The Panthers have been the Cinderella team of the postseason. And at this point I can't help but root for them.
Tkachuk not only leads the team in goals and points but also he has a way to score big goals at crucial times as his 3 overtime winners will show. Barkov and Verhaeghe are also at about a point per game and Bennett and Reinhart aren't far back.
Montour has been having a strong playoffs too and he and Forsling are averaging over 26 minutes a game.
But the Panthers wouldn't be in the finals if not for the play of Bobrovsky. He's 11-2 with a 2.21 GAA and a .935 save percentage. He looks like the Vezina winning goalie for a few seasons ago.
The Knights have Eichel who is playing amazing with 18 points and the depth behind him is great too. Marchessault has 17 points, Barbashev and Stone both have 15 and Stephenson and Karlsson both have 14 with Karlsson leading the team with 10 goals.
Their defense has been good too with Pietrangelo, Theodore and Whitecloud. In goal Adin Hill has earned the starting role playing 11 games and Brossoit 8.
Both teams have players who aren't afraid to get physical which should make for a great series.
I think the major advantage for the Panthers is in goal where Bobrovsky has been amazing and in a series thats expected to be a lower scoring one he will be the difference. Plus having had 9 days off between games will give them the rest that is crucial in the playoffs.
Panthers win
Graeme: As always, I shall go to the metrics and look at those.
First let's look at the playoffs data. We'll do 5 vs 5 SVA. Corsi is basically a tie, although Knights in Fenwick have a better FA/60. Knights have scored a crapload more – 3.42 to 2.14 – while conceding less – 1.65 to 1.71. Knights have did that despite xGF being practically the same. Panthers have had a higher xGA.
No surprise there really – and SCG stats are similar. Panthers have relied so heavily on Bobrovsky.
In all situations Knights don't improve so much while the Panthers do in a lot of areas. If there was no penalties at all, Knights would rock the series. As there is, it brings the Panthers bck into it a lot more. Although the xGA of 3.52 per game for Florida is disturbing.
In the two games they played this season just looking at straight 5 vs 5, they are really too erratic to say much. Panthers though in both were very impressive offensively in regards to creating chances, with really high CF/60 of 73.93 and 85.14.
When you look at how both teams play – I think the Knights offense might struggle. They do that really direct approach but that won't play as well against Florida.
You also have to factor in that the Panthers have kind of got here on the back of goaltending. Yeah some other factors too but Bobrovsky was a large part of that. You NEED him to perform again most likely. The question is – if he doesn't perform, are the Panthers able to win?
The Knights have been been the most clinical finishing team in the playoffs with 3.42 GF/60 and xGF/60 of just 2.53 in 5 vs 5. Similar in all situations with a higher xGF, while the Panthers have been underperforming offensively.
So you have the Knights offense overperforming and you have to think that will regress. But then you have Bobrovsky also overperforming. Will that regress too?
Honestly, I have no idea. There's no real "advice" I can give here. All of this data crunching and it still really comes down to those two factors.
I'm going to go with who I want to win. I love when a goalie performs like this, and I'm backing the Panth….nope, I'm not.
I do like the plus odds on that. But thinking about it more, I'm going to go with the Knights. Their offense is ludicrously clinical, and as good as Bobrovsky is playing, I don't think he will be able to handle this offense.
Follow @BetNHL
BetNHL.ca » Tonights Tips »