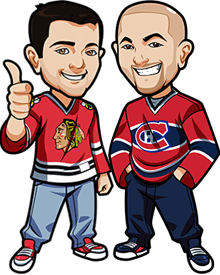 Written by Graeme & Scott on Saturday, September 19th, 2020
Follow @BetNHL
And then there were two.
The 2019/2020 Stanley Cup Finals is already unique in that it is taking place in freaking September. One additional surprise is that it features the Dallas Stars.
When the 2019/2020 season started, the Tampa Bay Lightning were the favourites to win the cup at 6.50 odds. The expected final was them versus the Knights, with the Knights at 9.00 odds.
Close, but no cigar.
The Dallas Stars, at 18.00 odds, were the 12th favoured team and have managed to make it all the way to the final.
Early in the season, the Dallas Stars even jumped to as high as 28.00 odds. Prior to the COVID playoffs beginning they were 15.00 odds, and on August 15th 2020, after going down to the Calgary Flames 2-1 on the series, they were 22.00 odds.
Now here they are.
It's been quite the journey for both teams. It was just over a month ago when Tampa beat the Jackets in that 5 game overtime period. They were able to beat Korpisalo multiple times and win that series 4-1, to erase the bad memories from last year. Faced with a big task of the Boston Bruins, they made light work of them winning the series 4-1.
They finally defeated the Islanders 4-2 to make it here including that big statement Game 1 when they beat the Islanders 8-2.
The Dallas Stars have been without a doubt the biggest joy of the tournament. We expected grinding defensive victories but we got anything but in their wins over the Flames and Avalanche. They scored an average of 3.5 goals per game against Calgary, and thne 4 freaking goals a game against the Avs.
On the back of solid goalie performances and good defensive works, they kept the Knights at bay for a massive 4-1 win.
For the sake of entertainment, let's hope the Stars team that shows up is more like the Avs/Flames team so we get some freaking goal fests.
Here's our thoughts:
Stars vs Lightning Betting Tips:
December 19th: Lightning 3-4 Stars (OT)
January 27th: Stars 3-2 Lightning (OT)
We both agree on the same tip, and this will be our only official bet of the series. We will do individual game bets primarily to have content but unless stated otherwise, Lightning -1.5 is the only official bet for this entire series.
Graeme: The Stars go into this one as decent sized underdogs.
We have went with game by game bets initially however for this one we're going to predict the actual Stanley Cup final. Tampa threw me in their last Game 1. They were notoriously slow starters so I tipped Lightning -1.5 for the series instead. While that bet came in, they made me looked like an idiot by winning Game 1 8 freaking 2.
Straight off the bat looking at the odds, I feel completely fine betting the Dallas Stars to win this series.
Let me say that both teams have been very impressive. Tampa broke their hoodoo over the Jackets. They beat a tough Boston team. They defeated a tricky Islanders team. However I've been so much more impressed with the Stars.
Their ability to go toe to toe with the Avs and Flames was unreal. I went from not really looking forward to Stars games to eagerly anticipating them. Then when the goals dried up they were able to do what we expected initially – grind the victories out.
I think if you go with advanced metrics and all that – the stuff I usually hang my hat on – Lightning -1.5 is mathematically the best play. However I felt like we saw some issues with Tampa in the Islanders series and some real player reliance issues such as Point. The Dallas Stars meanwhile – Khudobin is hot, and even if he falls away – if the Stars can get that offense going again it could cover that.
One thing that is really neat about Tampa and I like is that they aren't doing any sort of net front presence when they are on the puck and attacking. All the players instead are passing options and that takes a bit to adjust to. It's pretty neat and someone is always ready to rush in for a clean rebound.
Tampa have also had no issues prior to running into hot goals.
I feel both Lightning -1.5 for the series and Stars to win outright both have merit.
Goddamnit.
I wanted to take the Stars here so bad. As I was writing it up that's what I was going to go with. After everything they have did so far in the playoffs, I really want them to win it and I want to back them. But just looking at everything – I feel that is the wrong bet to make. If they are able to pull off one more surprise then so be it but going by the numbers, I feel it would be irresponsible to go with anything other than Lightning -1.5 for the series.
Scott: The Stars are playing amazingly.   They beat the Flames in 6 games, the Avalanche in 6 games and the Knights in 5.  They are getting scoring from players who normally don't light up the scoresheets like Gurianov and Kiviranta and getting some incredible goaltending from Khudobin.
The Lightning have won more games since 2016-2017 then any other team in the league.  They beat the Jackets in 5 games, the Bruins in 5 games and the Islanders in 6.
As good as the Stars have been it just seems like it's the year that the Lightning win the cup.  Even without Stamkos they have been able to play great and added some players to make them tougher to play against. 
It is tough to bet against the Stars but once the Lightning beat the Jackets after last years embarrassing performance against them it just seems like its their time.
Lightning win series -1.5
Best Odds on Lightning -1.5 for the series:
Canada: 2.20 Odds at http://www.bet365.com(Non-Americans) http://www.bovada.lv(Americans).
USA: -105 Odds at SportsBetting.ag
Everyone Else: 2.20 Odds at http://www.bet365.com(Non-Americans) http://www.bovada.lv(Americans).
(Odds correct as of 2020/09/19 7:03:05 AM EST but are subject to change.)
Best Odds on Stars to win the series:
Canada: 2.70 Odds at SportsBetting.ag
USA: +170 Odds at SportsBetting.ag
Everyone Else: 2.70 Odds at SportsBetting.ag
(Odds correct as of 2020/09/19 7:03:05 AM EST but are subject to change.)
Follow @BetNHL
BetNHL.ca » Tonights Tips » Stanley Cup Finals 2020 Betting Tips