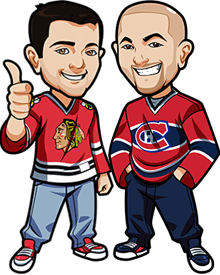 Written by Graeme & Scott on Friday, May 25th, 2018
Follow @BetNHL
The Stanley Cup Finals kick off on Monday, May 28th with Game 1 taking place in Las Vegas.
The finals features the Las Vegas Golden Knights vs the Washington Capitals.
Not the finals anyone was expecting and the sportsbooks will be laughing all the way to the bank. The Knights for obvious reasons but even the Capitals – no-one really took them seriously after their post-season woes the last few years.
It should be a very interesting series. The Knights won both games in the regular season against the Washington Capitals. They won 3-0 in Vegas and 4-3 in Washington.
For reference, here is the schedule for the 7 games:
Game 1: Monday, May 28th
Game 2: Wednesday, May 30th
Game 3: Saturday, June 2nd
Game 4: Monday, June 4th
Game 5: Thursday, June 7th
Game 6: Sunday, June 10th
Game 7: Wednesday, June 13th
Here are our thoughts:
Stanley Cup 2018 Winners Betting Tips:
Scott: The Knights made it look almost easy the way they reached the finals needing only 15 games to get here.  They are fast and Fleury has been amazing.  Just a great team to watch.
The Caps on the otherhand didn't have an easy road to get here.  The needed 6 games to get past the Blue Jackets, 6 games to get by their longtime rivals and defending champs Penguins and 7 games to beat the Lightning. 
The Knights have been an incredible story but, argue with me if you want, they don't deserve to win the Cup in their first season. It's not that their play doesn't deserve it, it's just that they haven't had the years of struggling that all teams have to go through.  The Caps have struggled in the playoffs for years now and the franchise has never won a Stanley Cup.
They don't have home ice advantage this round but that shouldn't be a problem for them as they have gone 8-2 on the road in these playoffs.  They clawed their way to get here and it's time for Ovie and the Caps to win the Stanley Cup.
Capitals in 6 
Best odds for Capitals to win:
Canada: 2.15 odds at Bovada.
Everyone Else: 2.10 odds at Bet365 (Americans: We recommend http://www.bovada.lv.
(Odds correct as of 2018/05/25 8:38:50 AM EST but are subject to change.)
Graeme: First of all I have to disagree with Scott in saying that they don't deserve to win the cup. There's no rule that states a team has to struggle prior to success. Plus while the franchise as a whole is new, the majority of their players aren't.
These are players who have struggled for years and battled to be in the NHL and what were they told at the end of last season by their former teams? "We don't need you. You're expendable."
William Karlsson gave 2 tough seasons for the Blue Jackets playing 81 games. Jonathan Marchessault wasn't selected in the NHL draft yet kept fighting, killing it in the AHL and earning himself a place with the Florida Panthers. Where he was their highest goalscorer then told "nope we don't need you".
Most players on this team have a similar story. And they've worked extremely hard to get here. This is a team with no outright superstars yet as a team they're one combined superstar. They've overcame all the odds and fully deserve not just to be here, but to win the Stanley Cup.
They looked the better and more complete team every series leading up to here as opposed to the Capitals, who lost 2 big games against the Jackets and then lost 3 in a row to Tampa.
The cup final itself however has he me highly conflicted. Washington at their best I dare say is better than the Knights at their best. I've watched them show the sort of gritty playoff performances they've missed from years past. This is a team who when the going gets tough – are actually getting tough.
It's easy to write off Tampa after those last two games as they looked like they fizzled out but that would be a discredit to Washingdown. Down 3-2, they came back hard and showed the grit needed to win. It's similar with the Knights vs Jets. It's easy to write off the Jets after that Preds series saying they ran out of energy. However Winnipeg was probably the toughest place to go in the playoffs yet the Knights went there and won twice.
This is a real head vs heart bet. I feel in my head it's a 50/50 series and either team can win. The odds have the Capitals as slight underdogs so that would be the more sensible bet. I'm also worried that on the big stage, the Knights fizzle.
My head says the Capitals are the better team. But prior to the season beginning, I made various prop bets on the Knights with about 6 different friends. All of them backed Knights under 30 wins or under 35 wins for the season and I took the over. Not that I believed in them or anything but being someone who loves Vegas in general, I sort of adopted them as my team and wanted to give me something to root for when watching them play. I fell in love with this team and honestly would be absolutely gutted if they don't take this final step to glory.
I'll go down with the ship. Knights to win
Best odds for Knights to win:
Canada: 1.76 odds at Bet365 (Americans: We recommend http://www.bovada.lv.
USA: -135 odds at Bovada.
Everyone Else: 1.76 odds at Bet365 (Americans: We recommend http://www.bovada.lv.
(Odds correct as of 2018/05/25 8:38:50 AM EST but are subject to change.)
Follow @BetNHL
BetNHL.ca » Tonights Tips »