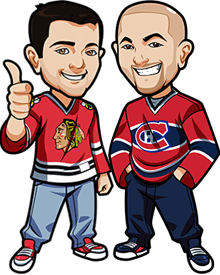 Written by Graeme & Scott on Tuesday, September 8th, 2020
Follow @BetNHL
Poor Islanders.
The Lightning handed out an absolute MAULING of the New York Islanders, winning 8-2.
What's worse is they switched goalies and that didn't matter at all. Now both goalies will be going into the next game not exactly in the best mood after that.
Just an absolute pounding. No shock – Tampa jump from 2.65 2nd favourites to win the Stanley Cup, at favourites at less than coinflip odds.
Amazing.
Trotz will get to show his abilities if he is able to turn things around after that.
We've got Game 2 of the Western Conference finals tonight. Hey Stars and Knights – we like a close game but do us a favour and get some goals.
Quick note for Americans – BetOnline. have announced they are suspending business with USA. No more bets for Americans from September 21st onwards and you MUST withdraw by September 25th. Belief is they are looking to enter the US market on a legitimate level. Big decision and based on that, we will temporarily not list them when we do odds comparisons and will see where things lie over the next few months. (We also withdrew our own balances there right now just to be safe)
If you're American and looking for a new book – in terms of betting odds, we would advise BetOnline.. Other US Books that we recommend are:
Those are the only ones that we personally trust and use for odds comparison currently.
Stars vs Knights Game 2 Betting Tips:
Graeme: Despite the 1-0 loss, and being held to a shutout for the 2nd time in 3 games, the Knights go into this one as favourites.
Looking at the advanced metrics, their xGF dropped drastically in that Stars game. Whether that is an anomaly or not we will find out tonight. They have been putting up numbers like 5.32, 4.31, 3.47 etc and their xGF for that one was just 1.4. All the offensive metrics across the board – Corsi etc – make that look like a disastrous performance for the Knights.
Question is – was this just a one off? Looking at the previous games in the regular season, Knights had a 2.76 xGF in both games against them and good Corsi. Knights offense hasn't been regressing (despite the lack of goals at times) so it does point to this one being more of a one off.
I think I'll put this one down to an anomaly. Honestly if you go by the advanced metrics it's hilarious to see. Stars really shouldn't even be here at this point so big props to them.
I've went back and forth on this game. I think looking at the advanced metrics the Knights take it outright – BUUUUUUT I also see the Stars matching them for goals just like they did against the Avs and surprising them. I think the Avs were surprised by how good the Stars offense was.
So we could be in for a hell of a game. I'm going to stick with the metrics for this one though – much like I said it was worth taking a bet on Islanders -1.5 despite everything in that Game 7 against the Flyers. I feel better if it loses and I can blame the numbers 😉
Knights in Regulation
Canada: 2.10 Odds at Sports Interaction (SIA) + free $20 bet.
USA: +100 Odds at BetOnline..
Everyone Else: 2.05 Odds at 888 Sports.
(Odds correct as of 2020/09/08 11:03:43 AM EST but are subject to change.)
Scott: The Knights looked like shit in game 1 and will need to find a way to deal with the Stars and their strong defensive play.  Game 1 was a nice hard hitting game which makes it more enjoyable to watch.  The Stars scored first and were able to throw hits when they had the lead.   This game had more hits, 90, than shots on goal, 50.
Khudobin picked up the shutout which was the first playoff shutout of his career.  The Knights looked better in the 3rd but couldn't get one past Khudobin.
I expect a better effort from the Knights now that they know what the Stars are capable of.  Once they get one past Khudobin then I expect them to get back to playing their way which has been successful for them.  
The Stars are still underdogs which makes the odds for a Knights win low unless we go with a regulation win and after game 1 I'm not comfortable with that. 
The Over/Under is 5.5 and after game one it seems like the Under would be the smart play.  But I think game 2 will be different and the Knights will score on Khudobin so I'll take the Over
Over 5.5 incl OT
Canada: 2.02 Odds at BetOnline..
USA: -105 Odds at BetOnline..
Everyone Else: 2.02 Odds at BetOnline..
(Odds correct as of 2020/09/08 11:03:43 AM EST but are subject to change.)
Follow @BetNHL
BetNHL.ca » Tonights Tips »