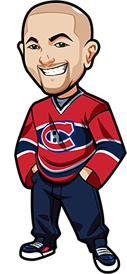 Written by Graeme on Friday, May 19th, 2023
Follow @BetNHL
It was a tight Game 1 in the Hurricanes vs Panthers series, with Florida finally getting the win in the fourth overtime.
Always amazing when a game just keeps going like that. I'm not sure those particular arena rules, but it's always a nightmare of mine; being told that beer service shuts off at the beginning of the third period, which is what they do at the Bell Centre.
Then having to sit there for almost two hours of no-beer, sobering hockey. I'm sure for many it gets to the point where you don't care who wins. You just want it to end.
I was the dumbass who in my Monday write-up, somehow thought Game 1 was Monday. I swear both Google and Bet365 said that, and I was so confused when I went to put the game on and couldn't find it.
Of course, I'm also the dumbass that correctly called that Stars in regulation play in Game 7. That was one I was really proud of, as I had no intentions of betting that game and then got convinced by the metrics.
That puts me at +12.66u for the playoffs which is nice.
Knights vs Stars Series Betting Tips:
Scott: This will be a rematch of the 2020 Western Conference Finals. They played 3 times during the regular season with the Stars winning the series going 2-1.
The Knights are making this a habit. It's the fourth time in their six year history they have advanced to the Western Conference Finals. They beat the Jets in 5 games and the Oilers in 6.
Eichel has been great in his first playoff experience putting up 14 points, Stone came back from injury and hasn't looked out of place scoring 12 points and after Brossoit went down with a lower body injury, Hill has been great with a 2.20 GAA and a .934 save percentage.
The Stars beat the Wild in 6 games and the Kraken in 7. They are lead by Hintz who has 19 points including 9 goals. Pavelski has 8 goals in only 8 games played which is pretty great. Robertson needs to get going as he has only 2 goals and if and when he does it will go a long way towards any success Dallas will have. Oettinger has been great for them in goal.
Should be a good series. The Knights are a more capable team physically and have played fewer games. But the Stars have the better goalie in my opinion and that is a huge advantage for them.
Stars win the series
Graeme: Metrics time! Let's look at the playoffs first.
Stars come in after a couple of hard fought series over the Wild and Kraken. Knights, not so much. A relatively easy series over the Jets, and an erratic and controversial series over the Oilers.
In 5 vs 5, both are similar on CA/FA but the Stars offensive advanced metrics are better. The Knights have a stupid 1.7 GA/60 in 5 vs 5. Ridiculous. And that's going 6 games with Edmonton.
Knights slightly worse xGA and XGF, but a 3.17 GF/60. In 5 vs 5, Knights were overperforming but the Stars were very consistent. I mean SCGF/60 of 3.17 and SCGA/60 of 1.25 for the Knights says it all.
if we do 5 vs 5 SVA, Stars Corsi & Fenwick looks even more impressive. All the others are generally about the same.
Even in all situations over the playoffs, everything seems to be similar. One big note is when we incorporate that in, the Stars metrics are even better with more goals scored, higher xGF etc and a great SCGF/60 of 3.06. Basically looking at all that, I'm liking the Stars here.
Let's have a quick look at overall regular season records. Stars slightly better in the Corsi & Fenwick, better metrics across the board there, actually. One thing I like about the Stars is they are consistent. You know what you're getting outta them.
I gotta say based on all that, I'm digging the Stars at this point. Let's look at season matchups between the two.
Stars beat them all three games. Focusing only on the January and February gamesand looking at 5 vs 5 which is a big factor for the Knights – Stars were pretty solid. Especially that January game. The 3-2 win not as much there but it was still very close.
Yeah honestly, by the advanced metrics, it's Dallas all the way for me. They're just such a consistent team. When you look outside of the metrics, they had two tough series which they were able to pull through, including a crucial game 7.
Stars to win the series
Ontario: 2.05 Odds at Sports Interaction (SIA) - Non-Ontario bet $10 get $200
Canada: 2.10 Odds at Bovada
USA: +110 Odds at Bovada
Everyone Else: 2.05 Odds at Bet365 (Americans: We recommend http://www.bovada.lv
(Odds correct as of 2023/05/19 7:53:57 AM EST but are subject to change.)
Follow @BetNHL
BetNHL.ca » Tonights Tips »