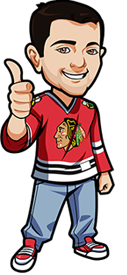 Written by Scott on Wednesday, September 19th, 2018
Follow @BetNHL
At various sportsbooks you can now bet on how many points a team will get during the regular season.
They will have a number for each team and you have to decide if they will go Over or Under that number.
Virtually each team has made moves and if they didn't then a team in their division certainly did which will affect there points at the end of the season.
Below we will cover three teams from each conference and tell you if we think they will go Over or Under the amount of points given to them.  We're using the lines from Sports Interaction but most books should be the same or similar.
Canada: Bet this at Sports Interaction + Free Exclusive $20 Money Line Bet
USA: Bet at Bovada.
Everyone Else: Bet this at Bet365 (Americans: We recommend http://www.bovada.lv
Eastern Conference Team Total Betting Tips
Toronto Maple Leafs – 106.5 points
The Leafs had an amazing season last year putting up 105 points which was a 10 point increase over the previous season.  And in my opinion this is better team than last year.
Bringing in Tavares gives the Leafs the best group of centers in the league.  Him and Matthews are the top 2 and now Kadri, and his 32 goals, goes to the 3rd line.  The Leafs are going to challenge for 1st in the Atlantic.
Over 106.5 points for the Maple Leafs is our pick
Ottawa Senators – 71.5
Oh boy.  It's going to be a rough year if you're a Sens fan.  Losing the best defenseman in the league is going to sting for a team that struggled last season.  And to make matters worse Craig Anderson asked for a trade out of Ottawa.
Last year the Sens managed to hit 67 points WITH Karlsson.  I cant seem them improving on their record this year.
Under 71.5 points
Buffalo Sabres – 79.5 points
The team struggled badly last year and were rewarded with the number 1 pick in the draft and easily selected Rasmus Dahlin.
A healthy Eichel, the additions of Dahlin, Skinner, Sheary, Berglund and Sobotka and a full season of Mittelstadt I see a big bounce back year for the Sabres.
I'm going with Over 79.5 points
Canada: Bet this at Sports Interaction + Free Exclusive $20 Money Line Bet
USA: Bet at Bovada.
Everyone Else: Bet this at Bet365 (Americans: We recommend http://www.bovada.lv
Western Conference Team Total Betting Tips
Los Angeles Kings – 93.5 points
The Kings took a huge gamble this year and brought Ilya Kovalchuk back from Russia and have him penciled into a top line spot.  Hes now 35 years old and 5 years removed from the NHL.  The league is a much faster place than when he was last here.
The team is getting older and I expect a step backwards for them.  They only added Kovalchuk in the off season.  Sure Doughty is amazing but not enough to push them higher in the standings
Under 93.5 points is our pick
Vegas Golden Knights – 96.5 points
Last year the Knights shocked the whole hockey world by having as much success as they did.  They did this by surprising teams with their speed and determination to show their former teams how much of a mistake they made in leaving them unprotected.   They added Max Pacioretty who will fit in nicely here but lost James Neal.
They wont be surprising as many teams this year.  It was an incredible story but in the end it was only that, a great story.
Under 96.5 points is my call on this one.
San Jose Sharks – 99.5 points
Each year people keep saying the Sharks are to old or this is the year they fall apart but each year the show up.  The picked up a huge piece in Erik Karlsson who is only going to make them that much better.  They already had Burns so they now their defense features 3 of the last 7 Norris Trophy winners and that's scary stuff.  Plus they also have Vlasic so they have arguably the best blue line in the league.
Sure Thornton is 39 now but they still have Pavelski and Couture as well as get Evander Kane for a full season. 
I expect a great year from the Sharks so I'm going with Over 99.5
Canada: Bet this at Sports Interaction + Free Exclusive $20 Money Line Bet
USA: Bet at Bovada.
Everyone Else: Bet this at Bet365 (Americans: We recommend http://www.bovada.lv
Follow @BetNHL
BetNHL.ca » Tonights Tips »