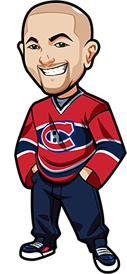 Written by Graeme on Thursday, October 24th, 2013
Hi everyone,
Well we had no tips yesterday. We had mentioned on paper the Red Wings should win, but the Alfie factor was enough to put us off and wow are we glad of that – that changed things in a BIG way. Ottawa absolutely killed last night – and if they can carry that momentum into future games they could be a big contender.
Before I get into todays tips I wanted to note a new promotion that Bodog are offering. (Sorry Americans – Bovada don't appear to be offering this).
It's called the Divisional Dynasty. You bet on each team in a division and you get some free cash. For example – bet on all 7 teams in the Pacific Division and get a $25 free bet. Or bet on all the teams in Central and get a $25 mobile bet. Bet on all teams in Metropolitan and get a $22 poker tournament ticket, and bet on all teams in Atlantic Division and get a $30 casino chip.
If you bet on every team you get $50 extra bonus. This is a sick deal. You need to bet $20 on either the Moneyline or Point Spread on a team. November 10th is when it closes. So that's 18 days which means an average of 1-2 per day. There are no minimum odds which is really good.
So we're going to start a section every day before the tips start where we recommend what teams to bet based on the promotion. We'll keep track of who we have bet and hopefully will have bet every single team by the end of the promotion. 1-2 tips per day. I'll create a whole separate page for it so we don't take up all the tips space.
Bodog Divisional Dynasty Promotion:
So to participate, sign up at Bodog. Deposit at least $100 and you will get a $100 match bonus – giving you $200.
Once done, sign up for the Divisional Dynasty by clicking "Promotions" and then clicking "Enter Now".
Today's two teams that we will be betting on are the Dallas Stars at 1.59 odds and the Nashville Predators at 1.71 odds. $20 on each.
Sorry for going on about it so much – but it's so rare that sportsbooks run NHL promos like this I'm very excited! Head on over to Bodog and place those bets!
Now let's get on with the tips:
Canucks vs Devils: Devils To Win
For that extra bang for your buck, you can bet this at Bodog at 2.10 odds and notch another one off the Dynasty Promotion.
These two teams played a couple of weeks ago. It was a very tight matchup which the Canucks squeaked in overtime. However the Devils showed they match up well with Vancouver. New Jersey have rarely played at home this season but they had that massive win against the Rangers. They know this is a winnable game, and against a team where they matchup well, plus Schneider is always going to be up for it if he's starting(and he most likely will), you have to like the Devils chances here at Bodog.
Oilers vs Capitals: Over 5.5
1.74 odds here which is a solid line. 10 days ago these teams played and put up 6 goals. What's notable about that game is the Capitals offense actually had an off day – they only managed 20 shots but put up 4 goals.
Both these teams can score and can concede and both defenses are weak. Capitals are inconsistent with their defense right now – and that's only good for us when it comes to the line. Bet Over 5.5 at Bovada(USA) or Bodog(Canada) or http://www.SportsInteraction.com for everyone else.
Rangers vs Flyers: Over 5.5
This one is a value pick based on the big odds of 2.25 at Bovada(USA) or Bodog(Canada) or http://www.SportsInteraction.com for everyone else.
Metropolitan Division rival game, and these two usually have good matchups with their last few games having 6 goals in them. Both teams have been poor at scoring all season but they concede like crazy, and with a nice break for both teams their offenses will be feeling sharp.
The odds of 5.5 are a great price here at Bovada(USA) or Bodog(Canada) or http://www.SportsInteraction.com for everyone else.
Best America Sportsbooks for NHL
BetNHL.ca » Tonights Tips » Thursday, October 24th 2013 NHL Betting Tips