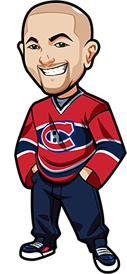 Written by Graeme on Tuesday, November 5th, 2013
Follow @BetNHL
If you're one of the many taking part in the Bodog Divisional Dynasty it was an okay night, as the Winnipeg Jets caused quite the upset taking out the Detroit Red Wings. Massive win for the Jets.
Unfortunately no luck with the New York Rangers. The Rangers put in a lot better performance than the last time they faced the Ducks(6-0 loss) and had a hot first period – yet still managed to concede 2 goals there. Frustrating one as the Rangers pounded the Ducks goal constantly throughout the 2nd, but couldn't get the goals required to tie up the game.
It's been a little bit rough going here the last few days and we're going to be looking at some shorter odds bets to get the confidence going again. We've always been betting for value and that's what you should be doing if you want to win long-term, but sometimes it's nice to get a few wins under the belt for smaller amounts and the confidence going again.
Bodog Divisional Dynasty: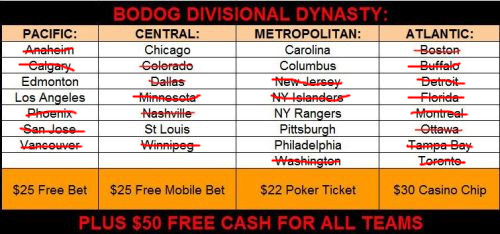 We have two teams in the Divisional Dynasty tonight. San Jose Sharks, and Florida Panthers. This will wrap up the Atlantic Division and give us a $30 casino chip.
While it's probably too late to do every team, you can still do at least a division so check out the Dynasty here.
Onto todays tips:
Sharks vs Sabres: Sharks -1.5
While we want to shorten the odds – there's no way in HELL we can go with the odds of Sharks winning here at 1.23 odds. This is hockey and there is absolutely zero value in that one.
Sharks have struggled a little bit with their last two games going to overtime. But they're rested 3 days now. While Buffalo are also rested they're just getting beaten bad by most teams. Buffalo just look all over the place – hell they were BEATING the Ducks 1-0 in the 2nd last time out, and before you knew it the Ducks were up 5-1. San Jose lost at home for the first time on the season on Saturday and that's going to motivate them. Dan Boyle was back there and even in the loss made an impact with a goal. He's also shaken off the rust and should be good to go.
Have to go with the Sharks to rack up the goals here and get the win – bet them to win by at least 2 goals. Sharks -1.5 at Bovada for Americans and http://www.Bet365.com for everyone else..
Panthers vs Oilers: Panthers to Win
Surprisingly nice odds here for the Panthers at 1.8 over at Bovada for Americans and http://www.Bet365.com for everyone else..
Not that Florida are playing amazing or anything – but Edmonton have been playing a LOT worse. Shutout in their last two games and they just looked completely lost. Florida have been battling goaltender issues, but have still been competitive in a lot of games – for example against the Capitals, Lightning and Blackhawks.
The odds here at 1.8 are just too great to ignore. Back the Panthers to beat the Oilers at http://www.5Dimes.eu for Americans(Need to register to see lines) and and http://www.Bet365.com for everyone else..
Canucks vs Flyers: Canucks +1
We're getting 1.50 odds on this one at Bet365 (Americans: We recommend http://www.bovada.lv which makes this a play. If your sportsbook doesn't offer it, or the odds are worse, sign up at Bet365 (Americans: We recommend http://www.bovada.lv to get it and also the $200 bonus they currently offer new signups.
Vancouver have a tough road trip here, but they have killed it when they come to Phoenix. Henrik Sedin is unbelievable at the moment. The Canucks to win are favourable odds at 2.00 – coming in as fairly big underdogs – but we're going to be playing it safe and going for Canucks +1. Bar an empty netter, we just can't see the Canucks losing this game by 2.
What +1 means is that at the end of the game, add 1 goal to the Canucks. So if Canucks win 3-2 then the final score is 4-2 and obviously – a win. If the Canucks end up losing 3-2 then the actual score after the +1 is 3-3, meaning a push and we get our bet back.
So back the Canucks +1 at Bet365 (Americans: We recommend http://www.bovada.lv.
Follow @BetNHL
BetNHL.ca » Tonights Tips »