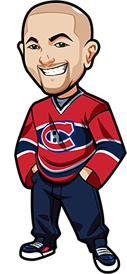 Written by Graeme on Tuesday, October 15th, 2013
Follow @BetNHL
Not a good night yesterday as we had our worst night of the season. 0-2, with a push in the Bruins game.
Honestly – we made a mistake. Yesterday we were both rushing around like crazy due to Thanksgiving dinners and plans for the day. It didn't help that the first game was at 1pm EST which meant we needed the tips to get out at 12pm EST.
For the first time in awhile we only communicated over brief texts rather than talking things out – and that caused a very stupid mistake. I said in the write-up yesterday that the Oilers/Capitals game would go over – but instead of actually tipping that, we tipped Goal before 9:30(12 seconds late) and the Grand Salami.
That was a stupid move and just a complete oversight due to us rushing around. We're going to make sure that doesn't happen again, and make sure we talk on the phone or meet up to go over everything even if it involves the tips being late.
With that said – let's get onto the NHL Tips for Tuesday, October 15th 2013.
Oilers vs Penguins: Over 6 Goals
Pittsburgh are averaging 4 goals per game while the Oilers are starting Dubnyk tonight, who is conceding 5.43 goals per game in the 210 minutes he has racked up so far. Those stats alone make the over very appealing.
Despite a 1-4-1 record however, the Oilers offense have been very solid. Honestly if they could get things sorted defensively they could be a contender – but we just don't see it happening against the Pittsburgh Penguins. We're expecting them to push offensively against the Penguins like they've did every game this season.
Even with the 4-2 loss last night, the Oilers looked good on offense firing in the shots in the early periods. Back the Over 6 on this one at http://www.5Dimes.eu for Americans(Need to register to see lines) and and http://www.Bet365.com for everyone else..
Canucks vs Flyers: Over 5.5 Goals
Quick note – you're going to see Over 5 goals at most sportsbooks. Bet this at http://www.Bovada.lv for Americans and http://www.Bodog.eu for everyone else. as the odds for 5.5 are 2.05 compared to a horrible 1.6 odds for the over 5.
The style of both the Canucks and the Flyers always caters to an offensive game. As the season goes on you'll see a more defensive Canucks but at the moment they're still pushing the high pressure offense. Flyers are despearate to pick up a win and they're going to be throwing everything at the Canucks defense here.
Back the Over 5.5 goals.
Stars vs Avalanche: Avalanche -1.5
Kari is out for the Stars apparently. Avalanche are running red hot at the moment – banging in the goals and barely conceding any. Colorado are working fantastic as a team at the moment with everyone sharing in the points, and their strategies should wreak havoc with the weak Dallas defense.
Bet Avalanche -1.5 at http://www.carbonsports.ag at 2.70 odds.
Fun Bet of the Night: Away Teams Goals +2.5:
We talked about this one initially today but didn't feel the odds would be good. However we changed our mind when the odds came out as we're getting 2.00 on this, which is nice value and wanted to add it if you're looking for a fun bet to keep you interested in all the games. It's a fun bet so only bet a small amount on it to keep you interested in the games.
This bet is available at http://www.5Dimes.eu(Need to register to see lines) and what it means is that the Away Teams get a 2.5 goal handicap. So if at the end of the night the home teams have 26 goals and the away teams have 25 goals, then 25 + 2.5 = 27.5 so the away teams win the bet.
You generally want the away teams to be competitive with the strong possibility for half of them to win. Let's look at the games:
Wild at Leafs: Harding is on a hot streak and could shutout the Leafs.
Sabres at Islanders: Sabres had a better game against the Wild, could be getting back on track.
Canucks at Flyers: Flyers really struggling at the moment obviously.
Oilers at Penguins: Oilers have….yeah no, I can't argue against this one!
Blackhawks at Hurricanes: We expect this one to be tight – Carolina have got a few big wins, but hoping Blackhawks can squeeze out the win.
Kings at Lightning: Scrivens put in some great performances and Kings are a hot powerplay team at the moment.
Blue Jackets at Red Wings: Jackets 2-0 on the road. Hopefully can be nice and competitive against the surging Wings.
Sharks at Blues: Both teams undefeated, should be a tight one.
Panthers at Predators: Predators will probably take this one, but they have been weak at scoring so hopefully only by 1.
Canadiens at Jets: Habs should(and better!) pick up the win against the inconsistent Jets.
Stars at Avalanche: Another concern obviously.
Senators at Coyotes: Another tricky one. Lehner was very solid for the Senators and if they can plug their defensive holes from over the weekend they can squeak out the win.
We love this bet because it gives you something to cheer for all night as well. Bet it at http://www.5Dimes.eu(Need to register to see lines).
Also for the picks above, be sure to check out the odds below as these are updated live and you can see the best place to bet:

Betting Odds - Click To Change ->