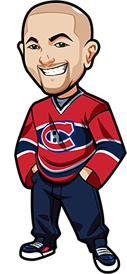 Written by Graeme on Wednesday, October 23rd, 2013
Follow @BetNHL
Hi all,
An excellent 2-0 winning night last night. Both nailbiters which make it all the better when they win! The Calgary one was especially tight because the Flames looked exhausted in the last period – but thankfully the Coyotes got the empty netter with 6 seconds left on the clock.
Sorry for the delay in todays post – however there are no tips today, and I got caught up doing some other stuff.
We've looked at todays games and there just isn't anything worthwhile to bet we felt. However despite that we wanted to give some analysis of the games for you, to help you with your own betting.
I also wanted to quickly suggest checking out FanDuel by clicking the banner below:
They offer one-day fantasy hockey leagues which are a blast. We're both a big fan of fantasy hockey but over the course of a season it's not as fun. Being able to pick players for just one day or one week is a ton of fun and we're hooked on it.
We're going to create a private league on there in the near future so make sure you sign up with the banner link above so you will be tagged under us.
Right – as we said – no tips tonight, but onto analysis of the games to help you out:
Bruins vs Sabres: Bruins SHOULD walk this one, but the 1.58 odds are not favourable considering the rivalry. We all know how that can spur a team on(see Devils:Rangers). Buffalo have also played really well in divisional games and are going to be up for this. Buffalo also had a fantastic game the last time they played, against the awesome Colorado Avalanche.
There's not enough to suggest an upset in this one – but those odds don't lean towards the Bruins play either. Goals wise it looks like an Under 5 game – but in a Bruins vs Sabres matchup it's so hard to go with that. Bruins handicap at -1.5 isn't even that appealing either – the bookies know that so they've raised the odds to a whopping 2.70 for that one.
Senators vs Red Wings: On paper, this should be a Detroit Red Wings victory and my computer system agrees with that – and the odds of 1.68 make it appealing. But we're holding off due to Daniel Afredsson. The guy played 17 seasons with the Senators – that's going to have a big impact on the game. Ottawa have also been getting better at tightening up the defense – and then had a rather surprising loss against the Oilers. There was also confusion about whether Anderson or Lehner would start for the Senators.
We'd lean towards the Red Wings in that one – but with the Alfie factor we're just not confident enough to tip it because that could change the game either way.
Good luck tonight and let us know in the comments below or on Facebook who you've got tonight!
And remember to sign up with FanDuel and we'll see about doing a weekly fantasy hockey pool there soon:
Follow @BetNHL
BetNHL.ca » Tonights Tips »