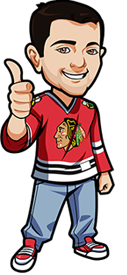 Written by Scott on Monday, September 15th, 2014
Follow @BetNHL
We are almost there folks. The NHL training camps are about to open and it can't happen soon enough.
But what can us NHL bettors do to hold us over? Well as always Bovada is there to help us out. You can place bets on over/under how many points each team is going to get.
Read Part 1 here.
With all of the huge moves that have happened during the off season how are these teams going to do?
Below I will go over teams that I think will go over the point line provided. The number beside each team is the total number of points. If you think that at the end of the year the team will have more or less points, over/under, then bet accordingly
For the full list of all of the teams head to Bovada . It's good to get on these early as the closer we get to the season these numbers are sure to change.
Dallas Stars 89.5
This team was amazing last year. They had Jamie Benn and Tyler Seguin leading the way and finished the year with 91 points.
Well this year they're a much better team. Not only are Benn and Seguin a year older and more familiar with one another they now have a second line that features Jason Spezza and Ales Hemsky.
You are going to want to bet OVER 89.5 points. They hit 91 last year and are only going to be better. This is an easy call
Nashville Predators 76.5
Another team that went out and got better. They have Seth Jones who is now a better player, rookie phenom Filip Forsberg, superstar James Neal and Olli Jokinen. They have one of the best defenseman in the world in Shea Weber and all world goals Pekka Rinne.
Much better team that last year and last year they hit 88 points. Another no brainer here. Bet Nashville OVER 76.5 points at Bovada
Edmonton Oilers 80.5
The Oilers are team stacked with your talent and it's only a matter of time until they start to click and put big numbers on the board.
Taylor Hall, Ryan Nugent-Hopkins, Jordan Eberle, Nail Yakupov, Justin Schultz, these guys are one day going to light up the scoreboards.
I think that with the offseason additions and the continued improvement of the youngsters, the Oilers should easily go OVER 80.5
Washington Capitals 88.5
Alex Ovechkin. That should be all the reason anyone needs to bet this team over.
But this team has had troubles in the past thanks to a poor defense.
We'll that won't be an issue anymore. They already had Mike Green and John Carlson now they have added two of the Penguins best defenseman in Matt Niskanen and Brooks Orpik. Some will say they overpaid for the two but the Caps now have arguably the best defense in the East.
Ovechkin, Backstrom and company will fill the nets but now the Caps have the guys who will keep the pucks out of their own.
Bet the Washington Capitals OVER 88.5 points at Bovada
New Jersey Devils 83.5
Last year they went out with an aging group and got 88 points.
This year they're all a year older but the will and determination of this team can't be discounted.
Not only do they have graybeards Jaromir Jagr (42), Patrick Elias (38) Marek Zidlicky (37) and Dainius Zubrus (36) but they went out and grabbed Michael Rider (34) Martin Havlet (33) and Michael Cammalleri (32).
This is yet another aging squad but their experience alone will win them lots of early season games. Even without Martin Brodeur this team will win some games.
Bet the Devils OVER 83.5 at Bovada
Follow @BetNHL
BetNHL.ca » NHL Betting Tips »