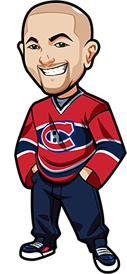 Follow @BetNHL
A couple of weeks ago, I wrote an article on Bankroll Management talking about how to manage your sports betting bankroll.
I received a ton of great feedback. For some people – it was too simple, and too slow paced. Understandable.
I wanted to use a recent example to expand on this topic and get into slightly more advanced bankroll management that is still easy enough for the casual sports bettors.
For a quick refresher – I suggested splitting your bankroll into units of 100. So if you had a $1000 bankroll, your betting units would be $10. If it was $100, you'd bet $1. Then you'd raise or lower your units depending on your bankroll. $102? You're betting $1.02.
There are a lot more advanced methods when it comes to betting and how much you wish to wager. Weighted units depending on the edge you feel you have or the win percentage, different unit betting for different odds, using the Kelly Criterion is a very popular one.
From conversations I had with a lot of you – most of you didn't have any bankroll management going at all. So going on from the previous article I'm going to explain a simple, but slightly more advanced way to bet.
It's actually the bankroll management system I use these days and it's a great combination of casual betting while aiming to maximize your profits. It also factors in "taking a shot" and taking risks to get that blood flowing – all within a controlled betting system.
I have 3 different bets I will make. One is for 1 unit, one is for 2 units and another is for 5 units.
1 unit bets are for bets with less confidence or just a casual bet. For example on the weekend, the early game was Jets vs Capitals. We didn't have a tip on it but I was watching it, so I decided to bet on the Jets. My reasoning was simple: I'm watching it, and I'll enjoy it more if I have a bet on it. I also sorta think the Jets might win although I didn't think the odds justified it. Not enough to actually tip it – but hey if I blow a unit on this no big deal.
They're also good bets if you're not feeling too confident. For example – the last week in tips for us has been a bit rough. So you may not be as confident in our bets and want to wait till we have a nice 3-0 night or whatever to jump back on. But you still trust us – so there's a good opportunity to bet 1 unit.
2 units are bets I make when I feel really good about the bet. I feel very confident in it. I've researched it and everything points to this being a winning bet. The odds are good, and I feel very confident with the bet. A recent example was the Leafs vs Blues game. We both felt very good about the Blues. They had an off night and got destroyed but that's a good example of a 2 unit bet. (Practically every bet on BetNHL would be a 2 unit bet FYI).
5 unit bets are the ones where I feel so insanely good about, it's all I can do not to bet my house on them. You know the sort of bet right? You look at it and it blows your mind that not only can you bet on it – but the odds are just SO SO good.
These bets don't come along fairly often. And when they do it feels like free money.
That's where you need some sort of level of control. Because even though you feel that way – they don't always win.
This week for example – I really believed in the Washington Redskins. I was insanely confident that they'd demolish the Cowboys even with Bryant back. I could go on and on about it and why I felt the Redskins would cover the spread – but they didn't. They didn't even win.
If I didn't have bankroll management in place – this would have been a DISASTER. Because it's the type of bet where as time went on I would have been convincing myself more and more – especially when the line jumped from -3.5 to -1.5 to a PK.
Not only could I have bet more and more – but then when I lost, I could have easily went on tilt. I could have went absolutely mental and turned around and bet a ridiculous amount of money trying to chase my losses and betting purely on emotional.
But thankfully with proper bankroll management, I didn't. I lost 5 units. It sucks but that's okay – I simply lower my bet size and move on with life.
To me – that's the ideal bankroll management system I would(and do) use.
Follow @BetNHL
BetNHL.ca » Blog » Bankroll Management: A Follow Up