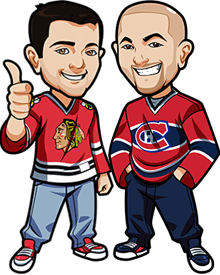 Follow @BetNHL
We posted our betting tips for Game 2 yesterday. If you have missed that, then click here.
Prior to Game 2 however, we've sat down with the online sportsbook Sports Interaction to chat about the Stanley Cup Finals, and the betting action. This is a weekly chat here at BetNHL.ca.
Quick sidenote: if you are a Canadian, you better have an account there. If you don't, then open up this link in a new tab and go back to it after reading this article. $20 free bet, $125 in bonus money, mobile betting, live betting, amazing player props – they are not Canadas #1 sportsbook for nothing. Trust Us.
So yeah – let's get chatting to Sports Interaction shall we?
BetNHL.ca: What was the betting action like on who would take the Stanley Cup?
Sports Interaction: It was constant towards the Blackhawks right up until the puck dropped. It was very lop sided that's for sure – we took on over DOUBLE the money on the Blackhawks compared to the lightning.
BetNHL.ca: That's quite impressive considering Tampa have home ice, AND they beat one of the biggest favourites for the cup – the New York Rangers.
Sports Interaction: As we've both talked about all season though – the Blackhawks are a public team. There are a large group of people that will blindly back them and have done for years – with good reason of course, with them bordering on a dynasty. People trust the Blackhawks, and people know they are a cup winning team. The Lightning are a good team but are they a cup winning team? It's hard to have that same confidence.
BetNHL.ca: What was the action for the Conn Smythe winner like?
Sports Interaction: Duncan Keith saw double the next closest player in terms of action. His line was +375 and everyone was all over him – not a bad bet considering the amount of time he has played so far. Toews was a lower +250 and was 2nd in the action.
BetNHL.ca: Despite all the love and action for the Lightning – they were the favourites for Game 1 at -130. And are favourites for Game 2. That's quite an interesting thing considering the Hawks are the overall favourites.
Sports Interaction: It's just a case of two completely separate betting zones, especially in terms of the money bet. The Hawks got a lot of betting action to win the Stanley Cup – but people know the Lightning will still battle with them. Lightning are a versatile team with multiple ways to win. Despite the odds of the Stanley Cup – we'd be surprised to see either team be a road favourite.
Thanks as always to Sports Interaction:.
Follow @BetNHL
BetNHL.ca » Blog »