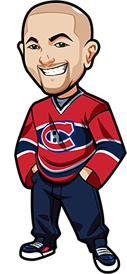 Follow @BetNHL
After 2 weeks break, the Champions Hockey League is back for two more game days, and I'm here to do my best to provide you with some Champions Hockey League Betting Tips.
If you want more information about the CHL, then please read this article I wrote last week which covers what the CHL is, where to bet it etc.
Over the course of the next few days, we've got quite a lot of games. Here is the schedule:
Thursday, September 4th: Game Day 3: 14 games.
Friday, September 5th: Game Day 3: 8 games.
Saturday, September 6th: Game Day 4: 13 games.
Sunday, September 7th: Game Day 4: 9 games.
We're going to try and do CHL Betting tips a day in advance at the least. This article is going to deal with the games taking place on Thursday September 4th, 2014.
At this time I can't find a sportsbook that both accepts Americans AND offers CHL Betting unfortunately. I'm working with some on that but no idea if it will work out or not. If so, I'll update this post.
For everyone else, I'd recommend http://www.B365.com.
There are quite a few sportsbooks that offer CHL, and another great one is Pinnacle Sports whose odds may be better on some of them. For all around I'd go with B365 due to bonuse, how good their mobile betting software is. But it pays to have an account at Pinnacle Sports as well due to the odds.
Quick standard disclaimer: CHL just started up. We're not experts on it. We've did as much research etc as we can – but we're betting this, and providing CHL betting tips more for entertainment purposes than anything else as what can we say? We miss hockey.
Be sure to read the comments on the article too as we've got a lot of European hockey fans who are very knowledgeable on the CHL as well. All team names below are written the way you will find them on http://www.B365.com
Sparta Praha vs Vaxjo Lakers HC: Over 5.5 Goals
2.00 odds on this one. A big price. However these teams already played and Praha won that one 5-2, with a 7 goal total. It was a very open game. More importantly, both teams were able to score a lot of goals in the initial games they played without a lot of shots. Both are top 10 in terms of scoring efficiency.
Vaxjo should be more competitive here, and we like this one to rack up the goals.
Frolunda HC vs Servette GE: Over 5.5 Goals:
Another price that we fancy, at 2.05 odds. In the first game where they played against each other it was similar to the above but a very competitive game with Servette GE winning 4-3. Frolunda HC are yet to play at home but will do that against Servette, and they've already proven they can score the goals on the road with their other result being a 7-1 victory. Nice to see some bloodthirsty action there!
Servette have won both of their games and look very good. They are lethal on the power play, and are 2.60 odds to win. That's actually quite a valuable price. I'd have them more about 2.30 so there is value there. I'll stick with Over 5.5 goals though for this game.
Double:
I also like Valerenga/Vienna Capitals to go Under 5.5 goals. This one is at 1.72 odds. Vienna Capitals have shown they are decent on offense but on the road is always different. Valerenga Oslo in their two games so far haven't shown much on offense. Being home could be different but I still see it being Under 5.5 goals.
On the flip side – Stavanger Oilers vs Tappara Tampere. First one that stuck out to me for Overs – but it's 1.57 odds which is no surprise. I wouldn't be surprised if this game hit double figures!
So take a double of the Under 5.5 in Valerenga vs Vienna Capitals and the Over 5.5 in Stavanger Oilers vs Tamppara Tampere.
Always giving better odds on doubles and accumulators – we get a great price of 2.70 odds on that at http://www.B365.com.
Follow @BetNHL
BetNHL.ca » CHL Betting Tips »