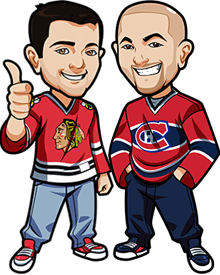 Written by Graeme & Scott on Wednesday, February 12th, 2014
Follow @BetNHL
Our Olympic Hockey Betting Tips got off to a great start, as we went 2-0. We had Sweden to win in regulation and they did that with ease for a win for 1.77 odds. We also backed Zetterberg to score anytime at 3.00 odds, and our man did that to set us up 2-0 to kick start the Olympics.
We've got 4 games on board today – starting at 3am EST. We'll try and get the tips out sooner for those games. Honestly we meant to – but after finishing up the NHL 94 Olympics last night – something that took us over 30 hours to complete in just 3 days – we got into the rum and cokes and yeah – today has basically been a write off. We talked it over tonight, and we're going to try and do the tips for Friday and have them posted by around 4-5pm EST on Thursday.
On that note – if you have a Reddit account we'd LOVE it if you could head on over there and upvote it for us. This took us forever so we'd really appreciate any love like that. Or if you don't have an account take 2 minutes to register. Here's a nice easy link.
Thanks guys. We really appreciate it.
Okay on with the Olympic Betting Tips:
Canada vs Norway: Crosby to Score Anytime
Quick note: we made a mistake yesterday – no sportsbook serving the USA actually offers this bet.
To place the Anytime Goalscorer bet if you live outside of the USA, go to Sports Interaction. Once registered, go to Hockey->Olympic Mens and under Canada vs Norway, click the "More Betting" option and it's there. Crosby is 1.78.
For people in the USA – you can place a similar bet that we like. Head over to Bovada and under Hockey->NHL Player Props, you can bet who will have the most points – Crosby or Toews. +130 odds on Crosby which is nice value. You could also bet Crosby to score first at 11/2 odds but that one is obviously very risky.
Canada vs Norway: Over 6.5, Canada -4.5
With goal differential being a key factor, Canada are going to come out firing. The standard line is Canada -4.5 at 1.83 odds at Bovada and Over 6.5 for 1.71 odds. We love both of those.
Russia vs Slovenia: Russia -4.5
That crowd is just going to be going crazy. Russia will want to make a big impression and we've backed them to win the tournament, and Ovechkin to shine. The fact that his odds of anytime goalscorer are just 1.39 pretty much says it all.
Go with Russia to do Slovenia in. 1.71 odds on -4.5.
USA vs Slovakia: USA -1.5
Team USA surprisingly aren't getting much respect. Slovakia are without Gaborik and Visnovsky which is HUGE. The US is stacked as well.
This is going to be a close game for sure – but we like the USA to do the business and win by at least 2 goals. Get on that at Bovada.
You can also do a parlay at Bovada on 4 of the picks(not anytime goalscorer) for 8.88 odds which is a really nice price.
Live Betting:
If you want to bet Olympic Hockey live, Bovada are offering that where you can bet in-play. We are hoping for the weekend games to tweet out some live bets.
NHL 94 Bets:
For fun, we simulated the whole of the Olympics on NHL 94.
We're going to use that to add in some fun completely random bets. Mainly because we're degenerates.
So we're going with:
USA to beat Slovakia 3-0 at 21.00 odds.
Finlant to win 5-2 at 14.00 odds.
Both at Bet365 (Americans: We recommend http://www.bovada.lv.
Follow @BetNHL
BetNHL.ca » Hockey Betting Tips »