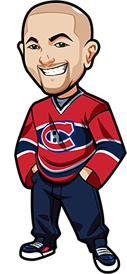 Written by Graeme on Thursday, February 13th, 2014
Follow @BetNHL
Sorry the tips are late guys – we were hoping to connect this afternoon after the Canada game but we ended up being too busy.
Cutting ourselves.
Seriously – that was such a disappointing game from Canada. Norway were there for the taking. The Canada D was great, but when it went up there the offense just died. There was no oomph to them at all. Price letting in that goal was costly – you got the idea Canada were just starting to loosen up and get going when that happened.
Ugh.
So it's Friday, February 14th 2014 and we've got 4 games on the board. We're going to be doing tips for all the games. 3 of them we are in agreement with, and one of them we are not.
Before we get to the tips – one thing we want to mention is that the odds are vastly different at every sportsbook. We're seeing odds of 1.5 at one sportsbook, while another has 1.71 for the exact same bet. It's crazy. So if you want the best value – be sure to browse around. We'll mention where we are betting.
Let's get to the tips:
Canada vs Austria: Canada -4.5
This is the one we are arguing about. Scott likes Canada to cover – he feels they will bounce back strong and be a lot more comfortable now they have the W under their belt. Graeme isn't feeling it due to how flat their offense was today. He thinks they are saving themselves for the big game against FInland.
1.61 odds on Canada -4.5 at Bovada.
Sweden vs Switzerland: Sweden -2
Sweden are 1.91 odds on -2. The Swiss could barely score against Latvia. In a tough game against the Czech Republic, Sweden hammered home 4 goals before taking their foot off the gas, allowing the Czechs to get 2 back.
The Czechs pushed and pushed against Sweden and it says a lot that Sweden didn't concede any more after those 2.
You can bet -2 at Bovada.
Czech Republic vs Latvia: Czechs -2.5
-2.5 is 2.05 odds at Bovada.
First – hats off to Latvia for coming so close against the Swiss. But that late goal was a killer, and so much was down to the Latvian goaltender.
But with their first game under the belt, and victory being absolutely crucial in this one – have to love the Czechs to come out strong and work on that goal differential.
Go with the Czechs -2.5.
Finland vs Norway: Finland -2.5
Norway did not look good against Canada. They could barely get shots on goal and their lone goal was an initial mistake by Price to put them in that position.
Finland were hammering it home, and our boy Granlund who exceled in the NHL 94 simulations was doing the business as well. Their offense is ALIVE and everyone was looking great.
1.83 odds at Bovada.
Winter Olympics Contest:
Our leaderboards and all that are now up. Although we couldn't figure out how to sort the leaderboard without it going mental and referencing other cells. We'll look into that more but you can see it here. And for newcomers – yes it is too late to join. You're missing out on free money!
NHL 94 Sims:
As we've mentioned the last few days – we're complete degenerates who simmed the Olympics on NHL 94 and are putting high odds bets on based on it just for fun.
Today we're going with:
Czech Republic 3-0 Latvia 12.00
Sweden 3-0 Switzerland 13.00
Finland 3-2 Norway 10.00
All at Bet365 (Americans: We recommend http://www.bovada.lv. Will place the Canada 6-3 bet if the correct scores are up.
Follow @BetNHL
BetNHL.ca » Hockey Betting Tips »