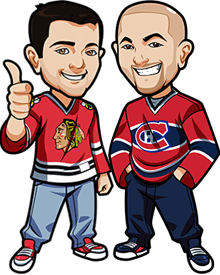 Written by Graeme & Scott on Friday, January 17th, 2014
Follow @BetNHL
It's not too long until the 2014 Sochi Olympics start up – and most importantly, the Olympics Hockey 2014.
As you can imagine, both of us here at BetNHL.ca are very excited about the olympics, and especially the hockey. It's the perfect type of event for any gambling fan as you've got various events to bet on all during the day. Just like events such as the World Cup and March Madness, we're counting the days till we can spend our times betting on it.
Today, we wanted to highlight one of the best sportsbooks to bet on the Olympics – period. We'll be using them for hockey for sure, but based on previous olympics, Bovada always nails it when it comes to olympics betting. It's always a solid mixture of great betting odds, bonuses and just a sick variety of bets available.
To take a step aside from hockey for a moment and before we get to some betting tips, let's look at reasons as to why you should be signing up at Bovada for Olympics Betting:
100% free bet bonus up to $100. So deposit $100, get a free bet of $100.
Various future bets and pre-selected parlays.
Covers both womens and mens hockey betting.
Olympic Medal specials. Bet the over/under on gold medals for Canada for example.
Live betting. You will be able to bet during the game on the outcome and various other props.
Mobile betting – great mobile sportsbook.
Casino and poker, with a $600 casino bonus and $1000 poker bonus.
As we've said – they will most likely have various unique promotions too. For example for hockey fans, they recently had the Divisional Dynasty. Right now if you head over to Bovada you will see a "Rink Rush" promo where you get a 10% cash back on all NHL props one week, and a 10% cash bonus on top of all prop bet winnings the next.
So be sure to have an account at Bovada because we'll be recommending them a lot during the Olympics hockey, due in part to the various promotions that they will be running for it.
Now currently when it comes to the Olympics Hockey, you can bet who will win the gold medal, who the group winners will be, and various parlays. They will have a TON of match betting options that we'll be sure to be recommending during our daily tips, but for now let's get to the futures and see what there is to bet on.
To access the futures, simply visit Bovada and choose the sportsbook. It's on the left under "Winter Olympics 2014" and then "Olympic Hockey Futures".
Olympics 2014 Hockey Betting Tips:
Russia to Win Gold
We tipped them back in September and our opinion still remains the same: we love Russia to win the gold medal.
Since we posted that article, Team Canada have moved up to favourites at 3.00. Russian odds have slipped slightly down to 3.25.
What can we say? We believe in Ovechkin. You guys know how he is – he can be the quietest player on the ice sometimes, but when he turns up he changes a game like no other. We're putting our money on him doing just that in his home country. With the likes of Malkin, Bobrovski, Datsyuk, Semin and everyone else we have to recommend betting Russia to win the gold at Bovada.
Group Winners Parlay:
At Bovada they have Group Parlays where you pick the winners.
Obviously, we like Russia to win their group. Team Canada will win their group or we'll strip naked and run through a Tim Hortons.
That leaves Group C. Sweden, Czech Republic, Switzerland or Latvia.
It's really between Sweden and Czech Republic, and we like Sweden to do the business. Sweden is stacked, plus their team is getting old and it might be their last chance for a lot of their key players.
2.55 odds on that one. It's the favourite but for a reason. So for that bet and many more olympic bets, head on over to Bovada.
Follow @BetNHL
BetNHL.ca » Hockey Betting Tips »