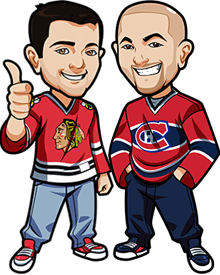 Written by Graeme & Scott on Wednesday, February 5th, 2014
Follow @BetNHL
In an earlier article written on January 17th, we discussed and provided some Olympic Hockey Futures Betting Tips available at our friends Bovada. Of course futures are one thing – but to be true degenerates we need to have as many props as possible!
So pumped for the Olympics and mainly the hockey portion of them and it starts in a couple of days. It is a great opportunity for the NHL to showcase their many talented players to people who may never watch hockey otherwise. And with rumours circulating that this may be the last Olympics that NHL players are going to be participating in this means more to the players which will translate to some unbelievable hockey.
As always Bovada offers people the best not only betting options but an amazing list of Olympic hockey betting props and we are going to go over just a few of the many available ones for us to cash in on.
Will Canada Win a Medal?
Yes – 1.25
No – 3.75
There is just too much pride and talent on this team for them to not reach the podium. They are stacked at every position and even with questions about their goaltending being brought up, they more than make up for it with all of the offensive talent they have.
Canada will medal and if not for these Olympics being held in Russia they would be our pick for Gold. Unfortunately – these odds are poor. Only 1.25. We're only mentioning this because of the news tonight that Stamkos is out. There's a good possibility the line will jump due to that – so we advise you keep an eye on it. If it goes as high as 1.5 or even 1.6 then get right on it. Even without Stammer Team Canada will medal, but keep checking Bovada and if the odds jump, hop on..
Olympic Ice Hockey – Men's Top Goal Scorer
Alex Ovechkin (RUS) – 7.00
Sidney Crosby (CAN) – 10.00
Patrick Kane (USA) – 11.00
John Tavares (CAN) – 12.00
Evgeni Malkin (RUS) – 13.00
Daniel Sedin (SWE) – 15.00
Corey Perry (CAN) – 15.00
Alexander Steen (SWE) – 17.00
Phil Kessel (USA) – 19.00
Ryan Getzlaf (CAN) – 21.00
Jeff Carter (CAN) – 21.00
Henrik Zetterberg (SWE) – 21.00
Marian Hossa (SLO) – 22.00
Jonathan Toews (CAN) – 26.00
Henrik Sedin (SWE) – 29.00
Pavel Datsyuk (RUS) – 29.00
This is only a partial list of all of the players you can bet on this bet really comes down to one player and one nation. As we predicted a while ago, we think that Russia is going to have astrong tournament and will challenge for the gold and probably win it. And the Russians are going to be led by the amazing Alex Ovechkin. Ovechkin made it known that he was playing in the Olympics this year being in his home country and he will dominate this tournament.
Bet Alex Ovechkin will be the Men's Ice Hockey Top Goal Scorer at Bovada for amazing betting odds of 7.00.
2014 Olympic MVP
Alexander Ovechkin (RUS) – 8.00
Sidney Crosby (CAN) – 8.00
Patrick Kane (USA) – 11.00
Evgeni Malkin (RUS) – 13.00
Henrik Lundqvist (SWE) – 16.00
Only listed the top five players here but as mentioned above we feel that the Russians are going to take this tournament and Ovechkin will do whatever it take to win the Gold Medal in front of his home fans.
Bet Ovechkin will win 2014 Olympic Hockey MVP at Bovada for great 8.00 odds.
Who will score more goals for Canada
Sidney Crosby – 5.00
John Tavares – 5.50
Rick Nash – 6.50
Corey Perry – 7.00
Chris Kunitz – 9.00
As he showed at the last Olympics and throughout his entire NHL career, Sidney Crosby is one of the best players to ever play the game. At first he was more of a set up guy but has developed into a complete player who can score with the best of them. With Steven Stamkos not playing in the Olympics now, Crosby will be leaned one to pick up the goals scoring of the missed Stamkos. And Crosby loves representing Canada and will lead Canada in goals and points.
Bet this at Bovada
Who will score more goals for the Americans
Patrick Kane – 2.50
Zach Parise – 3.25
Joe Pavelski -4.00
Phil Kessel – 4.00
Has anyone played in more important games in the last 4 years for the Americans then Pat Kane? No. Kane has played in the Olympics and has won 2 Stanley Cups in the last four years. So he knows how to get the job done when the pressure is on the line and he will lead the Americans in goals scored in this year's Olympics.
Bet Kane will lead the Americas in goals at the 2014 Olympics for 2.50 odds at Bovada.
Then take your money, hit up a pub with a jukebox and put $7 worth of Hoobastank on it.
Major props to anyone who gets that reference.
Follow @BetNHL
BetNHL.ca » Hockey Betting Tips »