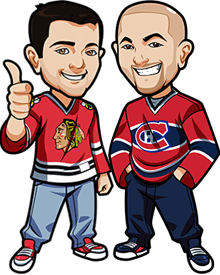 Written by Graeme & Scott on Friday, April 15th, 2016
Follow @BetNHL
Quick Note for Americans: For Euro 2016 Betting, go toBovada who offer a 50% to $250 bonus and the best markets for Euro 2016.
All but 1 of the NHL Round 1 Playoff Series have begun, and last night saw a lot of interesting games.
The Capitals and the Stars, as expected, got off to a dominant start. Both teams controlled their games and looked extremely solid both offensively and defensively. It's going to be a hard task for Philly and Minnesota and we're probably going to see those two teams get a lot more physical in Round 2.
Islanders vs Panthers saw the Islanders come out on top in an amazing goal fest. Both teams looked like they were playing without goalies with every shot on net looking like it'd cross the line. Roberto Luongo is going to have to step things up if he wants to help the Panthers move on to the next round.
There was also a surprise in the final game of the night, as the Sharks got a massive 4-3 win over the Kings. The big thing for the Sharks there was beating Quick multiple times. In his playoff history Quick has proven to be rather erratic, and based on last night it looks like we may see similar form to the 09/10 and 10/11 season so the Kings will be hoping he can turn things around.
From now on we will be providing betting tips for each individual game. These tips will NOT reflect our playoff series bets in any way. What that means is we don't take the Flyers in one game to "hedge" our Capitals -1.5 bet or anything like that. For all intents and purposes, when it comes to these betting tips it's as if our series predictions didn't exist.
The reason for that is we get over 30,000 visitors per day many of whom are new visitors to the site. It wouldn't be fair on them, or anyone who didn't follow our series betting advice, to do tips that are based on those.
The Predators vs Ducks series begins tonight and we've got your Predators vs Ducks Tips right here.
Red Wings vs Lightning Game 2 Betting Tips:
Scott:Game one was a close one.  The Wings outshot the Lightning but the Bolts came away with the 3-2 win.  At one point a Lightning goal was disallowed but they came right back and scored.
I still like the Lightning to win this series and I called 5 games.  I think the Wings can pull out a win though but I think it will happen in game 3 or 4.  The Lightning got some huge production from Kucherov, Johnson and Killorn and they will need to continue that in this round with Stamkos out.
Lightning win
Canada: 1.65 Odds at Sports Interaction Plus $20 Free Bet.
USA: Bet at GT Bets
Everyone Else: 1.64 Odds at Bet365.
Graeme: Tampa come into this one as pretty decent favourites after the first game. However it was an extremely tight game that I felt either team could have won. We saw quite a few penalties in that last game and I think we're going to see even more this game. Those two looked ready to brawl right from the off. Last time out I actually bet exactly 5 goals in regulation at 5.00 odds and profited there. That line is now 6.00. However I see the special teams having more luck this time out, and am going to take Over 5 Goals.
Canada: 1.91 Odds at Sports Interaction Plus $20 Free Bet.
USA: Bet at GT Bets
Everyone Else: 1.90 Odds at Bet365.
Islanders vs Panthers Game 2 Betting Tips:
Graeme: No doubt after the first game, the most popular bet of the night is going to be over 5.5 goals. While I don't hate that bet I'm not big on it. Instead I think we're going to see a much more solid Florida Panthers team. Despite the loss I felt they were the better team over 60 minutes. It's going to be important not to be down 2-0 when they go to New York, and I'm taking Panthers to win. However I'm going to go for some extra value here and take Panthers in Regulation.
Canada: 2.10 Odds at 888 Sports.
USA: Bet at GT Bets
Everyone Else: 2.10 Odds at 888 Sports.
Scott:Last night was a great game.  They traded goals up until the 3rd where the Isles scored 2 straight and came out with the 5-4 win.
The Panthers played a solid game and I like them to win tonight to even the series at 1 and make it a best of 5 series as it heads to Brooklyn.
Panthers Win
Canada: 1.65 Odds at [geocode id=5.
USA: Bet at GT Bets
Everyone Else: 1.64 Odds at Bet365.
Blackhawks vs Blues Game 2 Betting Tips:
Scott:.  Game one was insane. 
They entered OT tied at 0 until an ugly goal was scored by Backes as he had his pass bounce off of a Hawks defensemen and go past Crawford.
The Hawks out played the Blues and out shot them 35-18.  I think they will continue that tonight and they also get Duncan Keith back which is only going to help them as he's a freak who's capable of playing 30+ minutes a game. Over their recent success in the playoffs,  the Hawks have found ways to win and bounce back after losing a game.
Blackhawks win
Graeme: The last 20 minutes of the Blackhawks vs Blues Game 1 is something that is going to fire up the Blackhawks. There was a couple of brutal hits against them and then a goal that was really against the run of play. I think we're going to see a fired up Blackhawks team tonight and if they play like they did in Game 1 they should have no problem tying this series up. Blackhawks to win.
Canada: 2.05 Odds at Bet365.
USA: Bet at GT Bets
Everyone Else: 2.05 Odds at Bet365.
Follow @BetNHL
BetNHL.ca » Tonights Tips » April 15th, 2016 NHL Betting Tips