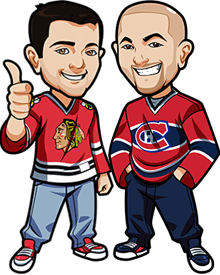 Written by Graeme & Scott on Thursday, April 14th, 2016
The NHL Playoffs began last night, with wins for the Penguins, Blues and Lightning.
The big story was Zatkoff playing for the Penguins, and he threw in quite a performance as the Penguins won 5-2. Watching the sports shows this morning you'd think he had a shutout based on the way they talked. I thought it was a fairly erratic performance overall – but I think putting him in was the right move. It's expected he will play some during the playoffs and much better to get the jitters out of the way in Game 1.
The Blackhawks pounded away at the net against the Blues, but St. Louis came away winners after a fairly lucky goal in overtime. Really looking forward to Game 2 in that one. After the way the Blues won, plus some of the hits – that Rozsival one in particular – the Hawks are going to be out for blood.
And Wings vs Lightning brought back memories of Wrestlemania with some of the brawling those two did! That's going to be a fun series.
Yesterday we covered the Flyers vs Capitals, Wild vs Stars and Sharks vs Kings series and today we're going to cover the remaining two series which are the Islanders vs Panthers(kicks off tonight) and Predators vs Ducks(begins tomorrow).
Then we'll be back tomorrow with Game 2 betting tips for all the games.
Islanders vs Panthers Betting Tips:
Scott: The Panthers won the season series 2-1.
The Isles allowed more shots than they took and that's going to be an issue in the playoffs.  They lost forward Anders Lee at the end of the year which is going to hurt an offense that was hit or miss this year.
The Panthers had an amazing year and are back in the playoffs for only the 2nd time in 16 years.  They have a great mix of veterans and youngsters and have also benefitted from a back to form Luongo.  The momentum of winning the Atlantic and making the playoffs will continue into the first round and help them move onto the next.
Panthers in 6
Graeme: I actually had a bit of a brain fart when it came to this one. When we met up and went over this game I immediately said "I think I'm taking the Islanders". They're such a hard working team and so physical and I could see them taking it all the way if they keep it up. Scott was looking at me like I was crazy, and then I remembered "Oh yeah, Halak."
Missing Jaraslav Halak is just too big a factor for me. I think the Islanders are going to battle hard and fight well but they're missing a playoff calibre goalie and I just can't see Greiss stepping up. Even if Tavares suddenly rediscovers his form I just dan't think it will be enough.
Panthers in 5.
Consensus Pick: Panthers -1.5.
Canada: 2.30 Odds at Bodog.
USA: +130 Odds at Bovada.
Everyone Else: 2.30 Odds at Pinnacle Sports.
Predators vs Ducks Betting Tips:
Scott: The Predators won the season series 2-1.
The Predators are a team that has gotten by from a strong defense for years.  This year they have addressed some of that by the continued improvement of Filip Forsberg and the trade for Ryan Johansen.  But besides those two players who will step up for the Preds?
The Ducks had a terrible start to the year but turned things around and came out winning the strong Pacific Division.  They have two of the best veteran forwards in Getzlaf and Perry and have a nice mix of depth throughout the lineup.  With the momentum this team has from the 2nd half of the season I have a hard time seeing the Preds beat them in this series.
Ducks in 5
Graeme: The goalie situation at the Predators is also a mess. Rinne just has not looked himself this season and the Predators clearly don't have confidence in him. Predators also just don't have the depth and are going to rely way too heavily on the likes of Forsberg. If it wasn't for his post-all star form who knows where they'd be.
It's amazing to think the Ducks made it here after that horrendous start to the season. That's one thing you do have to remember – just how badly this team has performed. However a lot of that was about them focusing more on puck possession and getting used to that. Since then they have been very very good. You've also got two solid goalies in Gibson and Andersen battling it out – sometimes that's good, sometimes it's not.
I like the Ducks to do it but I think Rinne will step in a couple of games and ride the Ducks hard.
Ducks in 6
Consensus Pick: Ducks -1.5.
Canada: 2.10 Odds at Bodog.
USA: +110 Odds at Bovada.
Everyone Else: 2.10 Odds at Pinnacle Sports.
Best America Sportsbooks for NHL
BetNHL.ca » Tonights Tips » NHL Playoff Series Betting Tips: Predators vs Ducks, Islanders vs Panthers