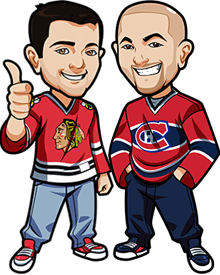 Written by Graeme & Scott on Wednesday, April 13th, 2016
Follow @BetNHL
In this article we're going to cover the series between the Flyers vs Capitals, Wild vs Stars and Sharks vs Kings.
We already covered Red Wings vs Lightning, Rangers vs Penguins and Blackhawks vs Blues yesterday.
Tomorrow we will be covering the final two series which is Islanders vs Panthers and Predators vs Ducks.
Just a reminder as we've been getting a lot of questions. We will have no tips for Game 1 of any of the series. You should be able to get a general idea of what we are thinking based on our series predictions.
When we do our tips from Game 2 onwards, we'll be providing betting tips without any reference to our series bets. That way if you didn't bet the series bets we did the tips will still be helpful for you. It also helps accomodate any new readers who come here looking for tips.
Flyers vs Capitals Betting Tips:
Graeme: Will this be the year of the Capitals? Over the past few years during the regular season and playoffs they've showed how good they are – but also how bad they can be. This season however they've looked amazing – although I did enjoy that period near the end of the season where they gave teams a goal start seemingly, before coming back and winning.
I just think the Capitals are the team to beat this year and if anyone deserves to win the cup, it's them. Props to the Flyers for making it here but the Capitals should be able to deciminate them nice and early and get some much needed rest. I think complacency will set in once though. Capitals in 5.
Scott: The season series was a 2-2 tie.
The Flyers were in a fight right up until the final games to make the postseason. They had a decent 2nd half and do have some great players who can take over games.
The Capitals were the best team in the league this year and by a wide margin. The lead the East in goals scored and gave up the least. Ovechkin had yet a other 50 goal season and staring goalie Braden Holtby had and an incredible season. Holtby tied Brodeur's record for wins in a season with 48 and did it needing 12 less games.
The Caps were already a strong team and they went out and added some good pieces which will push them far in the playoffs. I could see this being a sweep but with the passing of Flyers owner Ed Snider the Flyers will make this more competitive as they pay respect in the only way the can.
Caps in 5
Consensus Pick: Capitals -1.5.
Canada: 1.70 Odds at [geocode id=5.
USA: -130 Odds at Bovada.
Everyone Else: 1.70 Odds at Pinnacle Sports.
Wild vs Stars Betting Tips:
Scott: The Stars won the season series 4-1 but 3 went to overtime.
The Wild have been hit by the injury bug and at the worst possible time. Parise is dealing with a back problem thats causing numbness throughout his body. There's no clear timetable for his return and if he does play, how effective will he be. They also have Vanek out with an injury and he will miss at least the start of the series.
The Stars had a fantastic year. They lead the league in goals per game and won the West. They have a deep and solid team from top to bottom. I don't see the Wild giving them much trouble and the Stars will need to take advantage of the first couple games where the Wild will be without 2 of their top 6 forwards.
Stars in 5
Graeme: I just look at the Wild and the Stars and I see such a contract – even moreso than the Flyers vs the Capitals.
The Stars have been fantastic and one thing I really liked about them is they found motivation in random games with ease.
I think the Stars are going to take a 2-0 lead and take it in a big way and the Wild won't be able to recover. Their only hope is if Dubnyk steps up in that way that we've seen before – but I just don't think we've seen that type of performance enough out of him this season and don't think he'll be able to handle the Stars.
Stars in 4.
Consensus Pick: Stars -1.5.
Canada: 1.76 Odds at Pinnacle Sports.
USA: -140 Odds at Bovada.
Everyone Else: 1.76 Odds at Pinnacle Sports.
Sharks vs Kings Betting Tips:
Graeme: The Sharks won the season series 3-2
This is going to be yet another great series.
The Sharks have a great core of veteran players and this may be the last time they get a shot at the playoffs as a group. They had a great road record of 28-10-3 which is going to help them when the Kings have home ice advantage in this round.
The Kings are a solid team from top to bottom. They have plenty of experience in the playoffs and know what it takes to make it far. They have eliminated the Sharks in the Sharks last 2 playoffs so mentally it's their series to lose. Both of those series went 7 games so this is going to be a great one. But with all of their recent playoff success the Kings have the advantage in this one.
Kings in 6
Graeme: This is such a fascinating series and one I'm really looking forward to – it's going to be so interesting to watch.
I've went back and forth and I think I have to go with the Sharks in a tight series. I think they'll win their home games and that will be the key. Sharks are also beastly on the road and I think they can take one from LA in the opening games.
Sharks in 6.
Kings to Win Series:
Canada: 1.70 Odds at [geocode id=5.
USA: -130 Odds at Bovada.
Everyone Else: 1.68 Odds at Bet365.
Sharks to Win Series:
Canada: 2.28 Odds at Sports Interaction.
USA: +125 Odds at Bovada.
Everyone Else: 2.25 Odds at Bet365.
Follow @BetNHL
BetNHL.ca » Tonights Tips » NHL Playoff Series Betting Tips: Flyers vs Capitals, Wild vs Stars, Sharks vs Kings