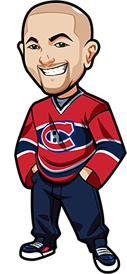 Written by Graeme on Sunday, April 19th, 2020
Follow @BetNHL
Welcome to Sunday, April 19th.
Sundays are so freaking weird for me in the current timeline. It used to be the one day I'd sleep in until about 8am. That is due to being up late the previous day watching all the NBA and NHL action and UFC. I used to not get to bed until about 2am on Saturdays.
Last night I was in bed by 9pm and up at 4:30am today. Why the hell not. To be honest I'm loving it all. I've always wished "time could stop" and that's kind of the case right now. Allows me to get so much accomplished and I am digging it.
Plus with everything going on – it really justifies day drinking doesn't it? Luckily I've got that well balanced out and only have a few drinks a day. I know some people who basically wake up at around 9pm or 10pm, drink all night long until they pass out. Rinse, wash, repeat.
The 2nd round of the quarantine eating challenge is tonight. Looking forward to it and you can check my tips from yesterday.
Let's get on with todays betting tips:
US Vice President Candidate Betting Tips:
Now you may think this one is a joke post along with my quarantine eating challenge and Yellowstone Earthquakes tips but you'd be sadly mistaken on this one.
Even though I'm a Scotsman living in Canada, I'm fascinated by US and World politics from both entertainment and marketing perspectives. I don't have a horse in the race either way, so I'm able to look at it from an outside perspective.
I'd like to take this moment to recommend people watch The Circus which is an entertaining look at US politics and is an HBO show. It's really fascinating watching it both live, and in retrospect. Even if you aren't interested in US politics it's still thoroughly entertaining.
I profited off the 2016 US election – albeit not huge amounts – as while large sections of the media were writing Trump off, I was looking at his key strategies such as that last minute visit to Wisconsin which ended up winning him the vote in razor thin margins.
I also cleaned up big time with Joe Biden becoming the Democrat Nominee. Here is just one of the bets I made: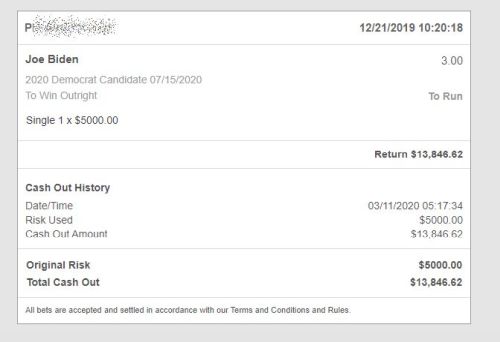 Not posting that to brag – just proof that I put my money where my mouth is and I'm not talking out of my ass in terms of paying attention to US politics.
I cashed out of that one a month ago due to the coronavirus lol. That was the sole reason as I was concerned that dumb bastard might get it and cost me the win with his inability to stop touching people.
Various sportsbooks have betting odds on who the VP candidate will be. Example odds:
Kamala Harris: 2.41
Amy Klobuchar: 4.12
Stacy Abrams: 5.75
Gretchen Whitmer: 5.82
Catherine Cortz Masto: 9.00
Elizabeth Warren: 10.00
Michelle Obama: 17.00
Hillary Clinton: 21.00
Andrew Cuomo: 28.00
Can rule out Cuomo as it's 100% going to be a woman. I almost wouldn't put it past them to run Hillary again but I'd never be able to feel good about spending that money. Michelle Obama has actually came out of nowhere with more and more people betting on her to be VP.
If Bernie had been more competitive or more of a concern in the run up to this, I'd be leaning more towards Warren at that price. However I don't think he needs her in that spot.
I'm going to go with Kamala Harris to be the VP nominee. I think race will be a factor, and I believe there are certain people pulling the strings who will go for that. She also is loved by certain donor groups that will make things a big factor here. She checks a lot of boxes and regardless of it being 2020, race and gender are the two big factors.
2u on Kamala.
I have used Sports Interaction (SIA) to place my bet. For non-Canadians, BetOnline. has you covered.
And hey I know US politics can be a hot issue but let's stay away from the drama in the comments 🙂
Follow @BetNHL
BetNHL.ca » Tonights Tips »