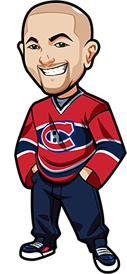 Written by Graeme on Saturday, December 6th, 2014
Follow @BetNHL
First of all – let me just clarify that when I talked about the Habs vs Blackhawks game yesterday being their only one of the season – that was a joke. I thought I went over the top enough to where everyone would realize that I was just trying to pretend the 5-0 thrashing in home territory did not actually occur – but 8 different e-mails suggested some did not get the joke.
My personal favourite:
"How the f*** do you expect people to follow your tips when you don't even know the f***ing NHL schedule? Chicago beat Montreal 5-0 just last f***ing month, genius."
Good stuff.
Our lone pick last night was the Habs at 2.70 odds and it was a good pick that just unfortunately didn't go our way. I said yesterday I'd expect the odds to be around 2.20 for that one and that was clear. It was a close game, and unfortunately the Blackhawks managed to get an incredibly flukey goal with just half a minute left to wrap up the win.
Jets destroyed the Colorado Avalanche 6-2 in a big one, and holy crap was that Ducks vs Wild game a thriller. Of course I stopped watching it during the 2nd period with the Ducks up 3-0. Happened to glance at my phone and saw it was 4-4 and was just like holy crap. Managed to catch the highlights and that was a good one.
It's Saturday December 6th. Our December Dynasty contest you can still enter – up until 1pm EST today. So not much time but sign up now – free cash prizes, free bets yada yada yada.
Full board of games today. Habs will go to Dallas hoping to bounce back after last nights crusher, while the Leafs play the Canucks. We also have a battle for the ages with Buffalo vs Florida.
Let's get to the NHL Betting Tips:
$25 risk free bets on player prop, in-game bet and $50 risk free mobile bet. Available for NEW customers only at BetOnline.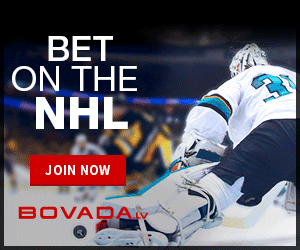 Toronto Maple Leafs vs Vancouver Canucks:
An interesting one. Canucks are notoriously a bad matchup for the Leafs. Their last 10 games together(going back to 2007) has seen the Canucks win 9 of them. The lone victory for the Leafs was in February of this year – last season.
Canucks road trip so far has been impressive. A tough 5-3 loss against Detroit, but they followed that up with a 4-3 win over the Capitals and a 3-0 thumping of the Pens. They'll be going into this one confident, and rested.
Leafs have also been playing some great hockey – although they all came to a crashing halt on Thursday when the Devils just plain outworked them.
We like the Leafs to bounce back – but to win? That's a tough one. We think they'll be competitive and that's the main thing – we're taking Over 5.5 goals in this one.
You can get 1.76 odds on that at Sports Interaction (Exclusive: $20 Free Bet for Canadians) or for Americans try out Bovada and everyone else Bet365.com..
Chicago Blackhawks vs Nashville Predators:
Have to go with the Nashville Predators here. 11-1-1 at home, going up against the Blackhawks who are playing back to back. Chicago are a team that back to back games doesn't affect them as much – but it's still a factor. Scott Darling is expected to be in for the Hawks – either way, whoever it is, is no Crawford.
It all depends on Rinne of course. He's probably and I'd be VERY surprised if he isn't in. I'd hold off till that's confirmed. We'll be sure to send out a notice on Twitter/Facebook if we can once we find out if Rinne is playing or not. We also send out social networking exclusive tips occasionaly – so perfect time to follow us.
You can follow us on Twitter @BetNHL or on Facebook at Facebook.com/BetNHL.
Anyway – assume Rinne plays, take the Predators at 1.80 odds to beat the Blackhawks.
Tampa Bay Lightning vs Columbus Blue Jackets:
We said we would stick with Bobrovsky – but we just can't do it here. A team as weak as the Panthers got 80 shots off in the back to back games against the Jackets and now they're going up against a team as electric as the Tampa Bay Lightning.
Lightning are at home too where they've been very, very good. Go with the Tampa Bay Lightning with the handicap. Take Tampa Bay Lightning -1.5 tonight. 2.15 odds.
Ottawa Senators vs Pittsburgh Penguins:
I'm actually paying a lot more attention to the Senators lately as my daughter has decided she is now a fan of them.
Long story short – I bought a new suitcase 6 weeks ago. My kids decorate my suitcases with stickers as they are worried I'll not recognize it. Last time it was a bunch of Minecraft and My Little Pony stickers. This time, my kids decided to go the sports theme with the logo of every NHL, NFL and NBA team stuck all over the case.
My 7 year old daughter had the most fun with this looking at all the logos – and she just fell in love with the Senators logo. Fast forward 6 weeks and this is her Christmas stocking: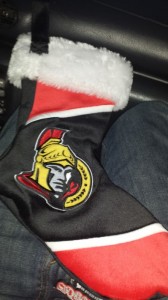 She's also got a Senators t-shirt, attempted to buy tickets to a Sens game with my credit card last week, and her Christmas list to Santa has a variety of Ottawa Senators merchandise requests on it.
Personally – I love it. She's super into hockey now and even more importantly – she picked her own team. I much prefer that than me forcing my Habs love on her.
Anyway yeah – so I've been watching every Sens game with her for the past few weeks. I like this game to go Under 5.5 tonight. There's some teams that defensively the Senators just stifle and the Penguins are usually one of those teams. Sens are struggling bad at the moment but I think this is the perfect game to go under.
Take Under 5.5 goals at 1.76 odds.
New York Islanders vs St Louis Blues:
Take the Islanders at 1.80 odds.
$25 risk free bets on player prop, in-game bet and $50 risk free mobile bet. Available for NEW customers only at BetOnline.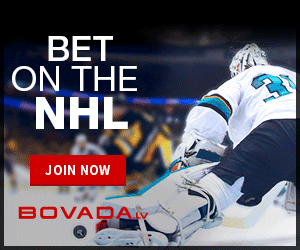 Follow @BetNHL
BetNHL.ca » Tonights Tips »