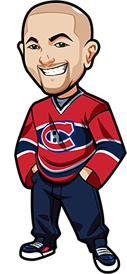 Written by Graeme on Thursday, February 18th, 2016
Follow @BetNHL
Sorry about the delay in tips today. Despite a lot of games it's a tricky night and we wanted to wait and really analyze each game. It's one of those nights where a LOT of potential bets jump out at us but we want to settle on a select few.
Another perfect night last night as we went 1-0 with our NHL Tips.
We had the Wild/Flames to go Over 5 goals and it went over with ease. The Minnesota Wild took a strong 3-0 lead. The Flames made it an interesting game by clawing back to 3-2 but props to the Wild for staying strong and John Torchetti must just be loving life at the moment.
I think we're at new coach time for the Habs. A few months ago, Montreal said they would stick with Therrien until the end of the season and I was happy with that decision. However now I have to say that the guy has go to go. I think the Habs problems are deeper than just a coach – but I do think a lot of the problems these days are because of him and we need someone fresh to sort things out.
Blackhawks vs Rangers was a great game. Those two had a lot of tight, defensive clinics in recent matchups against each other so it was nice to see a goal fest for a change.
It's Thursday, February 18th 2016 and we have 11 games for you tonight. A lot of real interesting ones. Rangers coming off that loss last night – can they bounce back against the Leafs, or will Toronto pull another upset? Minnesota visit Edmonton on a high, but is McDavid going to bring Torchetti back down to earth?
Looking forward to the games today. Let's get to the tips:
Penguins vs Red Wings Betting Tips:
The Penguins are back to struggling again and finding it hard to score. Such an up and down season for them.
The Red Wings however have had 3 huge road defeats since the all star break. They do have Mrazek in net which is cause for concern as he has been solid in recent games but we still like the Penguins at home here to get the win.
Penguins to win.
Canada: 1.80 Odds at Bodog.
USA: -120 Odds at Bovada.
Everyone Else: 1.80 Odds at William Hill.
Bruins vs Predators Betting Tips:
Nashville have struggled at home lately and are going up against the Bruins who are probably the best road team in the league at the moment. And that's with a couple of recent struggles against the Jackets and Red Wings.
The last two games on their road trip are a bit of a cause for concern, but they're still playing excellent hockey and got unlucky against the Red Wings. Rask is on fire at the moment too. Bruins are a nice price considering how well they play away.
Bruins to win.
Canada: 2.15 Odds at Sports Interaction.
USA: +115 Odds at Bovada.
Everyone Else: 2.15 Odds at William Hill.
Ducks vs Canucks Betting Tips:
When it comes to betting, the Canucks are a tricky team at the moment. We had them against the Leafs after two solid performances against the Coyotes and Avalanche, and they went out and put on a pathetic showing there.
However they are a team that can be capable of a win and it can scare us at times. But that's betting. The Ducks have quite a few holes in them despite their impressive form as of late – but they're on a winning streak and going up against a brutal Canucks team.
The Ducks offense has been incredible – and really their defense hasn't been too bad. A lot of power play goals there.
We're going with Ducks in regulation.
Canada: 2.22 Odds at Pinnacle Sports.
USA: +105 Odds at Bovada.
Everyone Else: 2.22 Odds at Pinnacle Sports.
Other bets that jumped out at us if you're looking for thoughts:
– Rangers -1.5. A lot of people expect the Rangers to hammer the Leafs tonight. However they did just play last night and lost. Granted that was more due to the power play than anything else but if the Rangers are going to win you'd expect them to do it in style, so 3.05 is a nice price.
– Capitals/Islanders Over 5.5 goals. Based on the last few games both teams have had it should be about 20 goals in this one. However recent matchups between the teams turned us off.
– Oilers to win. Might be one game too many for the Wild at the moment and the rested Oilers with McDavid could be in for a good night.
Good luck tonight. A lot of potential bets out there this evening.
$25 risk free bets on player prop, in-game bet and $50 risk free mobile bet. Available for NEW customers only at BetOnline.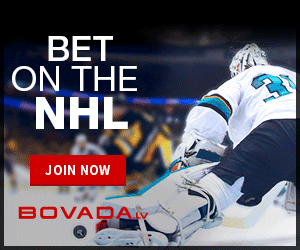 Experimental Betting Systems:
(Experimental systems – details)
I'll tally up the records of the systems soon. Haven't had time lately to check the public picks I've posted.
1st Period System: Rangers to win 1st period(2.75 odds), Wild to win 1st period(3.10 odds), Islanders to win 1st period(3.10 odds). Odds from 888 Sports.
Americans: Bet 1st Periods at BetOnline or Bovada.
Overtime System: Likes Leafs/Rangers to go to OT (3.50) and Stars/Coyotes (3.75)
$25 risk free bets on player prop, in-game bet and $50 risk free mobile bet. Available for NEW customers only at BetOnline.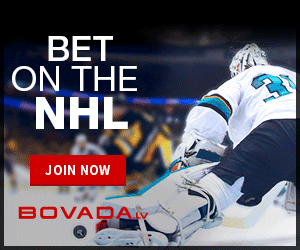 Follow @BetNHL
Best America Sportsbooks for NHL
BetNHL.ca » Tonights Tips » February 18th, 2016 NHL Betting Tips