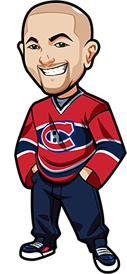 Written by Graeme on Saturday, February 9th, 2019
Follow @BetNHL
What an absolutely pitiful third period that was by the New York Rangers.
It was a tight game leading up to that. Very close and when they finished the 2nd period, Rangers were looking like the better team. Then they came out for the third period and put in one of the worst shifts in recent memory.
Just look at the advanced metrics from 2nd to 3rd period. 57.14% CF% to 35.48%. 60.71% FF% to 29.17%.
Considering the occasion – every single player should be embarassed about that one. Two of the goals WERE empty netters but honestly based on that poor performance, the Rangers deserve a good thumping.
Busy day in the NHL with a lot of early games. That's pretty sweet as less to focus on later. Saturdays already tough with lots of NHL, NBA and usually UFC. I also want to watch the AAF as well as I'm already missing football so going to be a busy day of sports.
Despite so many games – man it is a tricky day. So many plays I think about, everything contradicts it. I've got to think the Jets bounce back after that thumping by the Habs but their performances on the first leg of a back to back concern me. Stars have been on a good run but really feels like they are starting to regress.
Red Wings vs Sabres Betting Tips:
These two don't really have a good history of matchups between the two going over, but I like the performances of both going into this.
They're both creating a lot of chances and battling hard. Sabres are coming off a few high scoring games and the Red Wings offense has been doing fairly well as well.
Both teams seem to still be shooting for the playoffs. Sabres of course have the best chance but that just makes games like this more crucial for the Red Wings.
The concern with these games is that it can be a tense affair with neither team wanting to give up a goal but I've got to think the way the Sabres are playing that that won't be a concern.
1u on Over 6 goals incl OT/SO
Canada: 1.91 Odds at BetOnline..
USA: -110 Odds at BetOnline..
Everyone Else: 1.91 Odds at BetOnline..
(Odds correct as of 2019/02/09 11:48:37 AM EST but are subject to change.)
Penguins vs Lightning Betting Tips:
The Penguins are such a hard team to back this season but I think there is just enough value in this pick. For the record my underdog system didn't pick them so this is a purely personal pick.
Tampa are stuttering a bit. Not just post all star break but even before that they lost some key games. They've only won once in regulation in their last 5 and that was a tight one against the Rangers.
Penguins are a bit of a mess right now too of course. They've lost three in a row. Two of those are against hard working teams like the Canes and Panthers, and there's no shame in losing to the Leafs.
Vasilveskiy is most likely starting. Have to wonder if he is struggling a bit with confidence having lost two straight starts for the first time this year. The offense is in a bi tof a slump too.
"Confidence" isn't a word I'd use for this pick but I think when you add it up, there's value in taking the Penguins here.
0.5u on Penguins incl OT/SO
Canada: 2.65 Odds at Bovada.
Everyone Else: 2.60 Odds at BetOnline...
(Odds correct as of 2019/02/09 11:48:37 AM EST but are subject to change.)
Canadiens vs Leafs Betting Tips:
Montreal has a real playoff atmosphere going at the moment. They're third in the Atlantic and really pushing. Very impressive for a team who had been written off before the season begun.
Hell if you check my Atlantic Division Analysis from earlier this season, my only response to the Habs winning it was "LOL no". Looks like I'll be correct with the Tampa call, but like many I seriously underrestimated the Habs this season.
They're going against the Leafs with both teams battling for 2nd spot in the Atlantic. It's hard not to see this one as an uber competitive game.
1u on Over 6.5 Goals incl OT/SO
Canada: 2.05 Odds at BetOnline..
USA: -105 Odds at BetOnline..
Everyone Else: 2.05 Odds at BetOnline..
(Odds correct as of 2019/02/09 11:48:37 AM EST but are subject to change.)
OHL / WHL / AHL / KHL / Czech Extraliga Betting Tips:
(All below systems are based mainly on mathematics and statistics with very little human input and are deemed experimental. )
WHL Betting Tips (25-9, +7.58u): 0.5u on Spokane Chiefs -2 at 1.83 odds. 0.5u on a double of Saskatoon/Spokane both in reg at 1.86 odds.
AHL Betting Tips (17-16, +0.04u): 1u on Rockford IceHogs incl OT/SO 1.71 odds. 0.5u on Colorado in reg 1.78 odds.
Where To Bet the Non-NHL Leagues:
Canadians: Bodog and 888 Sports.
Americans: Bovada.
Everyone Else: 888 Sports.
Follow @BetNHL
BetNHL.ca » Tonights Tips »