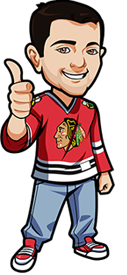 Written by Scott on Saturday, September 15th, 2018
Follow @BetNHL
First a quick note that Graeme is doing KHL Betting Tips and all the details is in that post. For some reason I don't think the e-mail went out to everyone notifying them of it.
Also we just noticed there is Erik Karlsson Over/Goals & Points Markets over at 888 Sports. Everyone except Americans can bet there so check it out.
Over at Sports Interaction they have a couple betting props based solely on how John Tavares will do this season. No other sportsbooks have this and Sports Interaction is Canadian only so this is just for Canadians. Everyone else go to 888 Sports
If you haven't heard, there may be someone out there who hasn't, John Tavares took less money for a chance to play for his hometown team who he grew up cheering for.
The Leafs were already a great team filled with young stars and adding Tavares to the mix has instantly made them a favorite to win their Division and then some.
Sports Interaction has two props you can bet on about John Tavares.  How many goals he will score and how many points he will have when the season is finished.
Below we will cover both of those betting props and give you what we think the likely outcome will be
Total Goals
For goals you can bet on his total number of goals during the regular season will be over or under 35.5 or 34.5.
Last year Tavares scored 37 times.  The year before was a down year for him scoring only 28.  But he has been a consistent scoring threat throughout his career.
With the talent on this Leafs team, this is the best team that Tavares has played on in the NHL.  In New York he was the guy that the opposing teams knew they had to deploy their best shutdown lines against.  That isnt going to be the case for him this year in Toronto.  The Leafs have 3 lines that can do damage and the problems this is going to cause for teams facing them is going to be incredible to watch.
With Tavares scoring 37 last year while facing the league's top shut down lines I see him going over the 35.5.
Over 35.5 Goals scored is my pick for this one.  And if you agree then you might as well also go with the over 34.5.
Bet Tavares to score more than 35.5 goals at  Sports Interaction for 1.83 odds
Total Points
For this betting prop we are betting on the total amount of points Tavares will score during the regular season.  Will he score over or under 81.5 points.
As mentioned above, this is the best and most offensively talented team that Tavares has been part of in the NHL.
Last season Tavares scored 84 points.  With more talent around him and facing weaker defensive lines each shift I expect him to score more points this season.
He will begin the season centering a line with Marleau and Marner on his wings.  Those two players are proven playmakers which is only going to help Tavares.  And just imagine the power play lines the Leafs are going to have.  They're going to be a scary team to play against this year.
Bet Tavares to score more than 81.5 points during the regular season atSports Interaction for 1.77 betting odds.
Follow @BetNHL
BetNHL.ca » Tonights Tips »