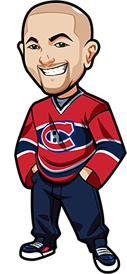 Written by Graeme on Tuesday, March 26th, 2013
Follow @BetNHL
Hi guys,
There was a bit of confusion yesterday when I mentioned the Titan Bet free bet. Titan Bet isn't like B365 where you get the $50 free instantly – you need to make 5 qualifying bets first of $10 each, all at odds of 2.0 or greater. Not sure where my brain was at.
If you're wanting to build your NHL Betting Bankroll via bonuses, then I highly recommend following our bankroll building guide.
Basically we guide you through all of the online sportsbooks in order, and using their bonuses and free bets to make money! Nice and simple.
So I recommend all of you start at the beginning of the bankroll guide, and go sign up at Titan Bet and deposit at least $50. Over the next few weeks I'll make sure I offer a tip with at least 2.00 odds(we usually have at least one anyway). If there ISN'T a tip at over 2.00 odds I'll then add in an additional bet for you guys clearing your bonus at Titan Bet.
In short – follow our bankroll building guide, I'd recommend signing up with Moneybookers, then deposit at Titan Bet and place your 2.00+ bets there that we recommend.
Also if you want to e-mail us at betnhl.ca@gmail.com with your Titan Bet username, we can probably hook you up with a free poker tournament entry or something.
Right – it's Tuesday March 26th, 2013 and we've got a full board of games. 9 games in all, with a lot of interesting ones. The Chicago Blackhawks take on the Calgary Flames – that's not going to be pretty for Calgary fans. The Habs take on the Penguins in a tight one, and the Capitals attempt to continue their quest towards the playoffs with a win over the Islanders. Let's see what we've got today…
Flames vs Blackhawks Betting Tips: Blackhawks -1.5 @ 2.6 Odds
So if you're clearing the Titan Bet bonus as mentioned above, then this is your first bet to make. Blackhawks -1.5 Asian handicap. Basically the Hawks have to win the game by at least 2 goals.
The last time these two teams played was in Calgary, beginning of February. Back then the Flames actually had some hope – now they've got no hope, and coming up against the NHLs best team in the Blackhawks. Chicago stuttered last night against the Kings, and now they're going to come out against easy opposition.
Blackhawks lost their focus last night against the Kings – dropping a 3rd period lead. This is going to be a much more focused Chicago team, and I expect a good whipping of the Flames. So bet the Blackhawks -1.5.
Flames vs Blackhawks Betting Tips: Goal before 9:30
Chicago have scored before 9 minutes and 30 seconds in over 80% of their games this season. Quite the stat. They are fast out there when it comes to the goals – and so we're going to back them here against the Flames. Pity you can't bet the scorer too because Toews is probably going to be the one to nail it, the way he is going.
This is a bet we can make at Bet365 (Americans: We recommend http://www.bovada.lv – so bet that the time of 1st score will be before 9 mins 30 secs. Odds are 1.74.
Habs vs Penguins: Penguins To Win in Regulation
Good news – another qualifying bet for the Titan Bet Bonus. The odds on this one are 2.00. You choose the "3 way" option and bet the Pittsburgh Penguins to win at 2.00 odds.
Penguins gained some strength with Murray and Morrown. On top of that, Malkin could be back – although I honestly highly doubt that. I think they'll rest him one more game and give him an easier game to be back and it'll be a game-time decision.
This is going to be a tight game, but the odds for the Penguins to win in regulation are what dictate this play. Penguins are on a killer run at the moment, and I think that while they will continue to score lots of goals, their rejuvenated defense should be able to hold off the Habs.
Follow @BetNHL
BetNHL.ca » Tonights Tips »