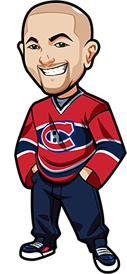 Written by Graeme on Friday, May 29th, 2020
Follow @BetNHL
Today we will look at the Chicago Blackhawks vs Edmonton Oilers series that will potentially take place if and when the NHL season returns.
This is the second series I am covering.
I have previously covered the Coyotes vs Predators series where I gave an outline as to what I am looking at for these series.
I've also just finished writing up betting tips for this weekends Bundesliga. You can see that here: May 30th Bundesliga Tips.
Man it's so nice doing these on a day to day basis. It was just just glancing through some stats and metrics for the Blackhawks vs Oilers last night then letting that stew in my head.
I've missed this so much.
Without further ado let's look at the Blackhawks vs Oilers:
Blackhawks vs Oilers Series Betting Tips:
The Blackhawks are underdogs to win this series at 2.40. The Oilers are 1.62.
My immediate thought at this series is "Oilers all the way". 1.62 is not a great price however especially with the added variance of a completely new situation. However it has me considering the handicap whenever those odds are released.
The Oilers finished the season in 2nd place in the Pacific and as the 4th best team in the West. The Chicago Blackhawks finished bottom of Central.
The teams played three games in the season and the results were as follows:
Blackhawks 4-3 Oilers
Oilers 5-3 Blackhawks
Blackhawks 3-1 Oilers
So very competitive games where the Blackhawks came out on top. That last game was a dominant one for the Hawks. However the 3-1 game on October 14th might be the more interesting one to look at as that is similar to the upcoming game in terms of rust etc.
Hawks won there. Interestingly that was the first loss for the Oilers this season after a 5 game opening streak. it was also the Blackhawks first win after opening the season with three losses.
Honestly that sums up the last two seasons of the Blackhawks for me. This is how I feel it goes:
NHL: "Hey Blackhawks you have absolutely no chance of winning this game or making the playoffs."
Blackhawks: "Oh cool we're going to go out and win and score 6 goals then"
NHL: "Woah you just won that one then two more where you didn't have a chance. You guys are now in a great spot to make the playoffs."
Blackhawks: "That's awesome we're going to go lose to the Red Wings now getting shut out in the process".
This is a Best of 5. I can honestly see Oilers going 2-0 up in the series and everyone counting the Blackhawks out. Then the Blackhawks win 2 games to tie it up and make everyone believe. Then they'll lose.
Looking at the advanced metrics – xG wise Oilers started slow to kickstart the season and ended the season around average. Blackhawks started the season with a stronger xG and ended it with a stronger xG too.
Honestly I think my scenario above is the most likely thing that will happen. I probably won't do a series bet on this one. I'll stick to game by game predictions. And while I have no actual evidence of this – I'd think over the break the Oilers players have been a bit more professional while guys like Kane and Toews are probably pissing pure fireball at this point.
Conclusion: Blackhawks gonna Blackhawk. I'll be looking to bet this one on a game by game basis as opposed to a series bet.
You can see current betting odds for this series at the below sportsbooks:
Canada: Bovada, BetOnline...
Everyone Else: 888 Sports, BetOnline..
Follow @BetNHL
BetNHL.ca » Tonights Tips » May 29th, 2020 Oilers vs Blackhawks Series Betting Tips