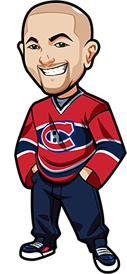 Written by Graeme on Monday, October 28th, 2013
Follow @BetNHL
We came SO close yesterday to the nice big underdog win. We tipped the Oilers at 3.10 purely on value. Their odds actually jumped to 3.60 closer to game-time and MAN – we were almost drowning in the value of that bet. Oilers led the game for half of the second period, and unfortunately lost in the shootout. Nerve-wracking game too with the Kings just pounding on the Oilers goal – pity we couldn't end it with the big win.
The other results were better. We tipped goal before 9:30 in the Sharks vs Senators game and we only had to wait 1 minute and 16 seconds for that one to come in. We also had the Lightning -1 and although they gave up a 2 goal lead in the 3rd, they prevailed to win the game which meant it was a push and we got our bet returned.
We also had the Lightning in the Bodog Divisional Dynasty for the nice win there.
If you're in Australia, Canada, Finland, United Kingdom or Sweden you can currently get 20 free spins at http://www.VideoSlots.com.
You don't need to deposit – simply register and you get your free spins. It's all online too so no need to download anything. Nice way to kill 20 minutes and win some cash in the process.
How about that Vanek move? WOW. Islanders kill me – battle and win aganst the Penguins on the road? Immediately get hammered off the freaking Flyers. Their attempts at being a real team this year are so cute.
On with todays tips:
Bodog Divisional Dynasty:
A win last night with Tampa. Today we have the Montreal Canadiens and the Vancouver Canucks. For all the details see the Divisional Dynasty page. It's not too late to enter!
Stars vs Sabres: Stars to Win
Dallas have lost their last 4 road games, but they're going against the Buffalo Sabres who haven't won a game at home yet. Buffalo also just lost Vanek – they've already given up this season. Business wise it's actually a very solid move – but it's not going to help them at the moment.
Moulson is solid, but we can't see him changing the fortunes of Buffalo. Especially with the knowledge Lindy Ruff has of the Sabres – you know this is like a Game 7 Stanley Cup for Ruff.
We like the Stars to take care of the Sabres, with generous betting odds of 1.74 at Bovada for Americans and http://www.Bet365.com for everyone else..
Blackhawks vs Wild: Wild to Win
Nice value here at 2.10 odds as the public still bet the Blackhawks like crazy.
Minnesota are one of the best teams at home – the way they play is fantastic. They just handled the Blackhawks easily on the road and they're the underdogs here?
This is one of those bets you don't need to over-analyze. Tremendous value at http://www.Bovada.lv for Americans and http://www.Bodog.eu for everyone else..
Canadiens vs Rangers: Habs to win
First time these two have played. Habs have usually been dominant of the Rangers – just one of those matchups where they come out on top.
My Habs have had a bad run lately. The defense is a mess at the moment. But we're going up against the Rangers AND we're getting a good price of 1.86 odds. That's most likely because the Rangers are playing just their first home game of the season. And that's the mindset of people – THAT is the problem, that the Rangers haven't been playing in MSG. I'm not saying they won't be motivated or anything, of course they will – but the Rangers have a lot more problems than just being stuck on the road.
This is another great value bet, which I'd recommend backing at Bovada for Americans and http://www.Bet365.com for everyone else..
Entertainment Bet of the Night: Away Teams -0.5
This bet is only available at Bet365 (Americans: We recommend http://www.bovada.lv. Prior to the odds being out we assumed it was -2.5 but nope – it's -0.5. You've got Stars over Buffalo, Penguins over Hurricanes, Habs over Rangers, Blackhawks over Minnesota and Capitals over Canucks. 4 out of the 5 teams on the road are the favourites, and with 3 of them you could easily see a 2+ goal win(although we're hoping Minnesota squeak out the win obviously).
So bet that now!
Follow @BetNHL
BetNHL.ca » Tonights Tips »