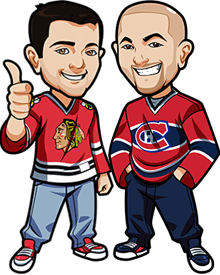 Written by Graeme & Scott on Tuesday, September 21st, 2021
Follow @BetNHL
NHL Preseason starts this week, with the regular season kicking off on Tuesday, October 12th. We will see the Penguins take on the Lightning, and the Golden Knights host the….Seattle Kraken.
Will take a bit of time getting used to that.
We will start writing various articles here over the next couple of weeks covering futures etc. This one will cover futures prop bets you can make, and the best sportsbooks to bet them at.
First two important notes:
1: All New Mailing List Setup. Our old mailing list provider closed down and we have a new internal mailing list setup now. Good chance shit goes to spam. Please be sure to check spam for the mailer we just sent out linking this post, and whitelist site@betnhl.ca as that will be where they all come from in the future.
2: All New Comments System. Disqus sucked. They kept throwing in all these junk ads, AND they stopped e-mailing us to notify us of new comments so we kept missing new comments and couldn't reply. We have an all new comment system where you can use your Disqus login if you want, along with Facebook, Google etc.
We're still tweaking it and there may be issues so if there is – PLEASE shoot us an e-mail at site@betnhl.ca with the details so we can sort it. Thank you.
We'd love it if you could comment on this article just so we can get any kinks worked out right now as opposed to on the first day of the regular season ha.
Now let's look at futures prop bets available, and the best places to bet them. All sportsbooks are trusted by us, and they are picked based on a variety of reasons such as support, odds, betting props and futures selection etc.
---
Stanley Cup Matchup:
Bet the exact matchup at the Stanley Cup Finals at BetOnline..
---
Outright Winners of Cup, Conference, Division
The most popular betting prop available at sportsbooks – who will win the cup, conferences or divisions outright.
This one you should probably shop around and we'll likely do a "best odds" post listing the best odds for all of these at some point. If you want the most reliable sportsbooks, we advise:
Everyone Else: Bet365 (Americans: We recommend http://www.bovada.lv.
USA: BetOnline..
Canada: Sports Interaction (SIA) + free $20 bet.
---
To Make The Playoffs:
A prop bet on whether a team will make the playoffs or not. Some crazy odds obviously such as Avs as Yes at 1.01 odds, or no at 15.54 odds. Odds for every team.
Canada: Sports Interaction (SIA) + free $20 bet or BetOnline. or Bovada.
Everyone Else: BetOnline. or Mr. Green.
---
Regular Season Points:
A prop bet on regular season points a team will get, and you have to choose Over/Under.
A few examples – Colorado Avalanche Over/Under 110.5, Vancouver Canucks Over/Under 89.5, Seattle Kraken Over/Under 92.5.
Canada: Sports Interaction (SIA) + free $20 bet or BetOnline. or Bovada.
Everyone Else: BetOnline. or Mr. Green.
---
Player Awards:
You know the drill – Hart Memorial Trophy, Norris etc etc.
Canada: BetOnline..
USA: BetOnline..
Everyone Else: BetOnline..
---
Ovechkin Breaks the Gretzky Record?
Will Ovechkin break Wayne Gretzky's record of 894 goals? Yes is 2.75, No is 1.40, prop available for Canadians at Sports Interaction (SIA) + free $20 bet and for everyone else at BetOnline..
Sports Interaction also have an exclusive on the Next Canadian Team to win the Stanley Cup. Oilers are favourites at 3.25, Leafs 3.40, Senators 5.50.
---
That's about all we are seeing so far. Hopefully will see more props closer to the season.
Cheers – good to be back writing hockey and hope everyone had a good Summer!
Follow @BetNHL
BetNHL.ca » Tonights Tips »