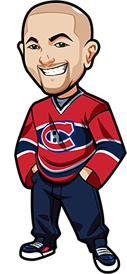 Written by Graeme on Friday, December 5th, 2014
Follow @BetNHL
A frustrating 1-2 last night. Thankfully the win was the Blue Jackets at 2.30 odds though to soften the blow. Holy crap was that a scary game. Blue Jackets up 3-0 and already counting our winnings – and then Panthers score 3 goals in just over 4 minutes to tie it up – leaving the Jackets to wrap it up in a shootout. Unbelieveable.
Leafs bet – it happens. They just got outworked by a motivated Devils team last night. Big props to the Devils who, with all the absences, could have went to Toronto and just lay down. Really wish they would have.
The Flames one was annoying, as we tipped them but in regulation time. Initially, we had them including overtime and shootout as despite the poor record, Avs are pretty solid at taking games to overtime. Prior to last night I believe it was about 33% of their games go to OT. However when we went to tip, Flames to win including OT/Shootout was 1.67 odds – below our usual threshold of 1.70.
I was debating just going with that anyway – but after a few calculations, felt 2.10 odds in regulaton was more +EV than the 1.67 one. It probably was – but it still stings – especially when they promptly score in OT.
Fun night last night otherwise in hockey. I particularly enjoyed Blues vs Predators. That one was expected to be a low scoring affair – Brodeur making his debut, and Rinne playing like Price during the playoffs. Hell – you could bet against a Brodeur shutout for as high as 1.77 odds yesterday which was insane. As it is – it ended up being a 7 goal thriller, and a great game. Tarasenko continued to rack them up as well.
3 games tonight. Ducks take on the Wild. They played back in October in Anaheim, where the Ducks won 2-1. Avs play the Jets. That was another tight one back in October with the Jets winning 2-1 in overtime. And the Blackhawks play the Habs – the first time the two have played all season. Yes sir – this is the only game the two will play all season, they never played on November 4th, and I stand by that statement.
Let's see what we can rustle up tonight:
Canadiens vs Blackhawks Betting Tips:
In the lone game these two play this season, we'll be taking the Habs.
Crawford is out for the Hawks, and while Raanta is a solid backup it's still a big loss. Habs are going to be going into this one prepared. They skipped practise yesterday as they know the Hawks are going to be flying at a fast pace and they want to match them.
The Habs are going to be fired up with revenge on their mind – revenge for what, I'm not sure as this is their first and only matchup of the season – but this is a huge game for them to get back on track, and they'll be extra motivated for it.
We're getting a great price of 2.70 on this one, for a Stanley Cup contender team. I'd say 2.3 would be a fairer price here. Take the Habs to win, including overtime and shootout.
That's all for tonight – betting wise I'll be spending my time playing fantasy hockey at FanDuel instead. But some notes about the other games:
Avs vs Jets: Avs are coming off a tough game last night and have a lot of injuries – but despite that, I still like them for the win. However the odds of 2.30 are putting me off. I would hope to get a better price considering the Jets had a night off. Yeah the Jets are without a few key defenders but based on everything, I'd expect higher value than the Avs. This is one I'll probably regret not tipping when the Avs clean the Jets clocks – but I just can't back them at that price.
Ducks vs Wild: We went back and forth on this one and just can't decide. The Over/Under line of 5 we can argue both points on that – we think betting Over 5 might have some value although expect a push a lot of the time.
With a quiet night ahead, it's the perfect time to enter out December Contest. THIS IS THE LAST NIGHT YOU CAN ENTER IT. So go do that.
Follow @BetNHL
BetNHL.ca » Tonights Tips »