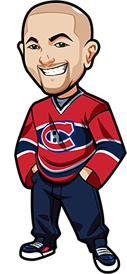 Written by Graeme on Saturday, January 18th, 2014
Follow @BetNHL
It was a close one last night, but with just 8 seconds left on the clock, Marian Hossa scored to put the total at 12 goals for the night, and win us the Grand Salami bet. Whew!
Massive win for the Blackhawks, although the Ducks were a depleted team. Also yikes – quite the win for the Blue Jackets over the Capitals as they defeated them with ease.
In case you missed it, we wrote an article on Olympics 2014 Hockey Futures. The tips won't stop when the olympics start – we'll be focusing big time on both men and womens hockey, and will be doing our best to get some winning tips. Might be hard to find value a lot of the time, but we'll do our best!
Quick note from the December contest we ran where we still have one more tie-breaker for the 3rd placed prize. I asked the participants to pick who will win in every game tonight, plus a final tiebreaker of how many goals are scored. This is what we have:
Jan: Rangers, Sharks, Jets, Blue Jackets, Leafs, Kings, Flyers, Hurricanes, Blues, Avalanche, Devils, Wild, Canucks. 57.
Georgi: Senators, Lightning, Jets, Blue Jackets, Habs, Kings, Flyers, Hurricanes, Ducks, Predators, Devils, Wild, Canucks. 64.
If any others come in before the games start I'll post them in the comments.
Alright, it's January 18th 2014 – and a lot of hockey on board. Although man – I am looking forward to tomorrow even more. It all starts at 8:30am tomorrow with Spurs vs Swansea. Then of course Chelsea vs Man Utd. 12:30pm tomorrow with Bruins vs Hawks. Then you have Lakers vs Raptors, Patriots vs Broncos and 49ers vs Seahawks. With some other hockey and basketball in between.
Yeah – I'm going to go out and get hammered tonight so I have no other choice but to lay around hungover all day and watch me some sports.
Okay, onto NHL Betting Tips for January 18th, 2014:
Jets vs Oilers: Jets to Win In Regulation
Jets vs Oilers: Over 5.5 Goals
We're going to double dip in the Winnipeg Jets vs Edmonton Oilers game tonight.
First – I really like the Jets to win. Under Maurice, their offense is absolutely killing it at the moment. Of course their defense has been fairly solid as well, but they're still conceding goals. I'm not too comfortable on the handicap for this one.
Edmonton, despite new signing Scrivens, are still conceding goals. They've played well against the Jets though – they won 6-2 on December 23rd. This is a good match-up and I'm liking the possibility of a 4-3 game for the Jets or 4-2.
Fun note – you can actually bet that. Over at Bet365 (Americans: We recommend http://www.bovada.lv you could bet Jets 4-1 for 13.00 odds, 4-2 for 13.00 odds or 4-3 for 10.00 odds. I've did those correct score bets in hockey before and they're a blast when you get it right as the odds are usually always great.
Anyway – go with Over 5.5 goals and Jets in regulation. Can back that anywhere like at http://www.5Dimes.eu(Need to register to see lines)
Devils vs Coyotes: Under 5 Goals
This is the first time this season these two are matching up, and I like them to cancel each other out. You've got some top goalies here, and offenses that aren't exactly killing it at the moment.
Go with the Under 5 goals at nice odds of 2.10 at Bovada.
Wild vs Stars: Wild to Win
Getting a nice price of 1.70 on the Wild to defeat the Dallas Stars tonight. Wild obviously struggling with injuries but Dallas are on a bad run at the moment and can't seem to get anything going on the road. They had the one win over Edmonton but really – everyone beats Edmonton. That was their only victory this year so far.
Wild are a bit hot and cold but you see a lot of team cohesion there and I like them to beat the Stars.
.
Follow @BetNHL
BetNHL.ca » Tonights Tips »