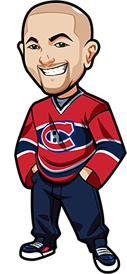 Written by Graeme on Wednesday, November 27th, 2013
Follow @BetNHL
Hi guys,
Graeme here. Thanks to Scott for taking care of tips for the last week. For those unaware I was in Alberta for the last week, and attended the only Edmonton game at the time which was the Oilers vs Blackhawks game.
Of course Scott had to lend me a Blackhawks jersey, but it was a Bobby Hull jersey and due to his time at Winnipeg, I only had insults hurled at me, not beer. So that was good. Really cool to be there for Bryzgalovs debut that was for sure – Oilers down 4-0 and the crowd just goes absolutely mental at him coming on the ice, as well as the subsequent saves he would make.
Little bit late with the tips today as man – a weekend of drinking your ass off coupled with a 2 hour timezone difference can really get to you. Just been so hard to get going today.
Remember – the BetNHL December Dynasty. We've had a bunch of entrants so far and hoping for more. Let's see if we can give one of you guys an XBox One or PS4.
On with the tips:
Canadiens vs Sabres: Habs To Win
Have to ride with the hot Habs. 3 big wins after their loss to the Rangers, and they're in the top 33% on the road. Buffalo still go from showing glimpses to being their usual poor selves. Plus it probably helps us that Vanek isn't with Buffalo anymore – man, that guy had a boner for putting it to the Canadiens.
Habs won't under-estimate Buffalo. They'll ride the momentum train and pick up the win. Back the Habs at Bovada for Americans and http://www.Bet365.com for everyone else. for 1.6 odds.
Blackhawks vs Flames: Over 5.5
These two actually had a tight game last time out where the Flames beat the Blackhawks in overtime. Chicago won't forget that and will be in here to put in a dominant performance just like they did on Monday. Honestly, if Bryzgalov hadn't got in net and changed the fortune of the Oilers I hate to think what the final score would have been. I'm pretty sure all the Bobby Hull love in the world wouldn't have got me out of that Rexall alive.
Blackhawks are apparently starting Raanta and the Flames are going with Berra. I've heard a lot of good things about Raanta but betting the over, I'm much happier going with a goaltender having their first NHL start.
Back Over 5.5 at Bovada for Americans and http://www.Bet365.com for everyone else..
Only two tips for tonight because I've got a lot of hockey to catch up on and tonight looks a fair bit tricky. Remember to head on over and join our December Dynasty before it's too late! And tell your friends to join! The more the merrier.
Follow @BetNHL
BetNHL.ca » Tonights Tips »