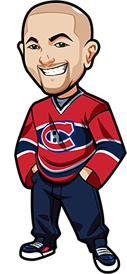 Written by Graeme on Saturday, November 29th, 2014
Follow @BetNHL
2-1 last night, with the Pittsburgh Penguins letting us down.
Two quick things to remember:
#1: Our December Contest. It's free to join, there's cash prizes and possibly some free bets as well. Join that today.
#2: Free Bet for Canadians. If you're a Canadian, our free bet exclusive promotion expires end of this month. So yeah – act freaking fast, and get on over to this page for your $20 free bet!
Speaking of Sports Interaction, it's that time of the week where we chat with them about the NHL season and get their perspective on how things are going their end, as well as sharing some great nuggets of information to help us all when it comes to betting.
As always thanks to Sports Interaction for this – help support them by signing up. They are an awesome sportsbook and our #1 recommend book for Canadians, #2 for everyone else.
Tips are below this:
BetNHL.ca: So we're just about 25% through the regular season – man does it go fast. This is a good spot for people betting though, as now they've got actual data and sample size to work with. What's your thoughts on the first quarter?
Sports Interaction: Based on the results so far – the two teams that are setting up a snowstorm of false hope as we head into December are the Flames and the Habs. Everyone is expecting the Habs to continue dominating, and Flames are of course picking up some great results.
We're expecting both teams to falter – hell Habs did just that last night against Buffalo. The Flames won't be big for the bettors – honestly despite their results and current standing they're just not getting the action you'd expect. However the Habs are – and any time they lose it's a good night for us.
BetNHL.ca: A lot of teams playing poor at the moment. Who do you see turning things around over the next month or so?
Sports Interaction: The Blue Jackets. They're right down there at the bottom in the East but it's all due to injuries. Dubinsky will be playing soon and he is going to be a big difference maker. If the Jackets can recover from injuries and field a regular team? We think they'll be unstoppable.
The Jackets are one to watch out for – keep an eye on them because with their current results you're getting great value on them. Once they have a regular team again it'll take a good few times before the lines adjust from the sportsbook end – so there'll be a lot of value on them.
BetNHL.ca: We've had a couple of readers ask about "betting systems" – basically they either pick big underdogs looking for that value every night, or very high favourites at 1.5 odds and below. They wanted to know your thoughts on that.
Sports Interaction: It's not just NHL but it applies to every sport – don't stick with one particular strategy or system. You're leaving so many +EV bets on the table. Really – the best thing bettors can do is pick a bet they think will win, then look for the best odds. Your live odds page is a good resource for that.
And they should focus heavily on the price. Only bet on teams where you feel comfortable with the price. Don't stick to very strict betting strategies or systems – all these do is mess up your judgment. The successful ones are the ones that are very flexible and play based on the odds.
BetNHL.ca: Lots of people bet parlays purely for entertainment. Any big ones from the last week?
Sports Interaction: Yeah although it wasn't NHL. Someone hit a 95/1 parlay but what they had bet on was impressive. Suns -2 and New Orleans -3 in the NBA. That's standard. But then they added two half time/full time bets from the Serie A and the English Premiership at big odds that brought the parlay up – and they won.
The week before there was a 60/1 parlay with an NHL game. It was based on USC to cover, the USC game to go over, the Bills to win the first half by 1-6 points, and finally the Ducks to beat the Kings. We do see some pretty crazy parlays every week.
BetNHL.ca: Parlays obviously result in big payouts from the sportsbooks. But what a lot of people never think about is that for every 90/1 parlay that comes in, there's probably 100 other parlays bust thanks to one particular game. Saturdays are big for parlays – what hurt people last weekend?
Sports Interaction: Capitals losing to Sabres. They were huge favourites over Buffalo and lost 2-1. Honestly looking at the results that day and the bets – that one particular result turned a bad week into a good week for us.
As always – thanks to Sports Interaction. We love these weekly chats.
Let's get to the NHL Tips:
Canadiens vs Sabres Betting Tips:
We're going to go for a big bounce back game from the Habs tonight. They lost to Buffalo last night 2-1 in Buffalo, and now they get the chance for immediate revenge.
Buffalo matched up well with Montreal this season – last time in Montreal at the beginning of this month, it was a 2-1 win for the Habs in a shootout.
But we like Montreal to bounce back big here. No confirmation on who is in net yet but in this situation it doesn't matter.
Bet the Habs -1.5 at 1.90 odds.
Penguins vs Hurricanes Betting Tips:
We like the Penguins to bounce back tonight – but the odds are a bit tricky. Quite interesting odds actually – Penguins just 1.52 to win, but a massive 2.60 for the handicap.
Penguins handicap isn't a bad bet if you think they'll bounce back – one of the best teams on the road and a big win seems possible. You may want to consider that as a value bet.
We'll be going with Over 5.5 goals at 1.95 odds though. We like the Penguins to score goals, but they've been leaking quite a fair amount of goals in the last 10 days. The Canes offense runs hot and cold but after last nights win we're hoping they will be competitive.
Predators vs Blue Jackets Betting Tips:
Only bet if Rinne is playing. We don't have confirmation yet although he is probable.
We like Under 5.5 goals here. Blue Jackets offense is weak as it is, and Rinne is standing on his head at the moment.
1.76 odds on that.
And remember – get that free $20 bet at Sports Interaction (Exclusive: $20 Free Bet for Canadians) or for Americans try out Bovada and everyone else Bet365.com..
Follow @BetNHL
BetNHL.ca » Tonights Tips »