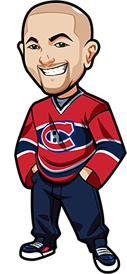 Written by Graeme on Thursday, October 31st, 2013
A quiet Halloween night with only 3 games on the board. The Ducks take on the Bruins, while Buffalo visit the Rangers in the battle of the crap, and Coyotes host the Predators.
Despite only 3 games there's some interesting games for sure. The Ducks have been doing great this season but Boston is a big test. Rangers in their 2nd game at MSG will be hoping for a big win – but have to do it without Nash and Callahan. Coyotes vs Predators will be interesting. They played three times last season with a shutout for the home team in two of the games, then an 11-goal thriller as the Coyotes beat the Predators 7-4.
Let's get on with the tips:
Bodog Divisional Dynasty:
Today we are taking the Phoenix Coyotes, and the Buffalo Sabres. This is probably the Sabres best chance of a win looking at their schedule, and as mentioned Nash and Callahan are both out. For more details on the Bodog Divisional Dynasty, click here.
Coyotes vs Predators: Coyotes to win
Coyotes have been doing fantastic lately, while Nashville are starting to struggle. While they managed to scrape the win against the Jets they were hammered against the Blues.
Coyotes main issue this season is that they leak goals – currently an average of 3 goals per game against them although that's only 2.4 at home. The Predators have struggled to score all season and even though the Phoenix defense is weak, they'll find it hard to get by.
The odds are short at 1.60 but we still like the Coyotes enough here to back it at Bovada for Americans and http://www.Bet365.com for everyone else..
Ducks vs Bruins: Ducks to Win
There's some solid value on the Ducks here at 2.20 odds. Yeah the Ducks offense is a bit beaten up – but they've still managed to pick up a lot of big wins this season. On the road they've looked fairly impressive, in their last 3 games with big ones over the Flyers, Blue Jackets and Senators and are on a roll with their current road trip.
Being at home is not an advantage for Boston at the moment as they're 3-3-0 at the TD. Perreault should be playing tonight and there's the possibility that Penner will be back – although I wouldn't count on it.
What's really impressive about the Ducks record at the moment is that they do this while completely SUCKING at the power play. If they can get the advantage sorted out, they could really do some damage. We like the Ducks at their current odds of 2.20 – this should be more of a pickem or even Ducks as slight favourites, so we're getting great value over at Bovada for Americans and http://www.Bet365.com for everyone else..
Rangers vs Sabres: Value Bet
This is not a bet for the faint-hearted; if you only like to win bets and don't care about betting for value – then this bet is not for you.
However Buffalo are a crazy 2.80 odds to win at Bovada for Americans and http://www.Bet365.com for everyone else.. This is a massive price. Yes Rangers came up big against the Islanders, and yes they're at MSG for only the 2nd time – but that is not enough to justify the price. Especially with Callahan and Nash out. On top of that Matt freaking Moulson – Buffalo lost to Dallas but MAN did he change things up and even though they lost, the offense was dominating in that game. And that was what? 1 whole day after he had signed. Now he's had a few days to practise with his new team-mates.
This line is a great price, and one we'd recommend betting at Bovada for Americans and http://www.Bet365.com for everyone else..
Best America Sportsbooks for NHL
BetNHL.ca » Tonights Tips » NHL Betting Tips for October 31, 2013