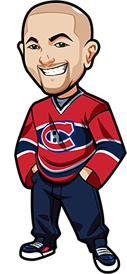 Written by Graeme on Thursday, October 9th, 2014
Follow @BetNHL
Hi guys,
We recieved a lot of questions yesterday from Canadians who bet on the likes of Pro-Line and Sports Select. They had wondered the reasons as to why they should bet online as opposed to betting Pro-Line or Sports Select or whatever gambling outlet your province has.
I'm just going to talk a little bit about that and we'll use Pro-Line as the example.
The only benefit to Pro-Line is you can get your money pretty much instantly. Win? Great. Go to the store and pick up your winnings. All good, nice and easy.
However betting online has SO many more advantages. The big one – you can bet just one game. No need to bet three. It's hard enough to get one pick right let alone three. Even worse – some nights there will be a bet where you are so confident it will happen. Unfortunately with Pro-Line you have to bet 2 other bets you may not be as confident about.
The odds are crap on Pro-Line as well, compared to online sportsbooks. Bruins -1.5 for example – if you bet $100 on them via Pro-Line you'd profit $80. If you bet $100 on them online? You'd profit $185. Yeah – quite the difference. Then to make it worse, with Pro-Line you're also having to bet two other games as well!
Online sportsbooks also offer some really cool features such as betting via your cellphone so it's the ultimate convenience. You can also do LIVE BETTING. This means you can bet during the game. So the Habs go up 1-0 versus the Leafs but you've saw some life in the Leafs – you can either bet them to win at better odds(as they're 1-0 down), or bet them to score the next goal or a ton of other bets.
And withdrawals really aren't that bad. For example – on Monday, I requested withdrawals from both Sports Interaction and B365 – both withdrawawls were $x,xxx. I recieved both withdrawals to my Instadebit(intermediary just like Paypal) account 4-6 hours later, withdrew to my bank and I recieved the money Tuesday afternoon at 5pm. So around 30 hours and I had my money.
We know online can be big and scary and confusing – it really can. There's so much to it and it's a big jump.
Let's make this easy for you: right now, go over to Sports Interaction. These guys are trustworthy and have been online since 1997 and we've used them for years and years.
Go there, and deposit at least $20. You'll then have $40 in your account. Why $40? Because they're going to give you a bonus just for depositing and betting there. (Deposit $125 to recieve the maximum bonus of $125).
You'll also have a $20 free bet, an exclusive deal thanks to us. So the first thing you do is you follow one of our tips today, and you bet that $20 on one of them. If the bet loses, then you'll get that $20 back! And if you win? Then you win, all good, and you've got a nice amount in your betting account.
So yeah – head on over to Sports Interaction. That $20 free bet expires October 31st so act fast.
Whew – sorry to go on about that but we got a TON of e-mails and just wanted to help our fellow Canadians out. If you have any questions at all then feel free to e-mail us at betnhl.ca@gmail.com as we are happy to help.
Okay so last night; we went 3-1 for a terrific night. Our only loss was the Bruins -1.5 – but that was a risky bet at 2.65 anyway, and we almost had it paid off except the Bruins missed an empty netter.
Fun fact: on Tuesday, we simulated all the games via NHL 15 for the XBox One. Not only did it correctly predict the winners of all 4 games – but it actually got the Sharks-Kings score correct – 4-0 to the Sharks. How crazy is that?
Alright, it's October 9th 2014 and we've got 12 games on the board tonight. A lot to pick from and we're quite bloody excited. Let's get to it:
Lightning vs Panthers Betting Tips:
We're expecting big things from Tampa this season and are very excited. Stamkos is back and healthy, and we feel Ben Bishop is going to have a huge season.
Panthers of course are in rebuilding mode. We think that later in the season they could become a decent force, but based on the pre-season we're not impressed with them at the moment.
Lot of pressure on Tampa going into this, but we like them to shake that off and get the win.
Bet Tampa Bay Lightning to win in regulation time. 1.83 odds at Sports Interaction (Exclusive: $20 Free Bet for Canadians) or for Americans try out Bovada and everyone else Bet365.com..
Flames vs Oilers Betting Tips:
Games between these two are pretty much a coin flip when it comes to betting – and that's a good thing, because when one is heavily favoured it makes it much easier to bet.
Flames are 2.30 to the Oilers 1.66 and we like the Flames there. Don't get us wrong – we have a soft spot for the Oilers, and we'd love to see them do better. Graeme goes to Edmonton multiple times per year and takes in the games there. But Flames were a tad unlucky last night, and poor on the powerplay. Now they've got a game under their belt, and we'd stick with the coinflip analysis.
Based on that, bet the Flames 2.30 to win at Sports Interaction (Exclusive: $20 Free Bet for Canadians) or for Americans try out Bovada and everyone else Bet365.com..
Jets vs Coyotes Betting Tips:
So hard to get used to the "Arizona" Coyotes.
We haven't been impressed with the Coyotes in pre-season at all. Their offense looks like it is going to struggle – hell, it wouldn't surprise us if Pavelec gets a shutout against them and it's Pavelec! Losing Vrbata and Ribeiro was quite big for them.
Jets meanwhile there's a lot of confidence in the camp. They've got more depth on the lines, and there's a buzz about them. Hell who knows – maybe even Kane will have a good game.
They're the underdogs and that's generally what we like to look for this early in the season, where the sportsbooks tend to favour home ice advantage a bit too much. So in our final bet of the day, we're going with Jets to win 2.20 odds at Sports Interaction (Exclusive: $20 Free Bet for Canadians) or for Americans try out Bovada and everyone else Bet365.com..
Have a great night guys.
Follow @BetNHL
BetNHL.ca » Tonights Tips »