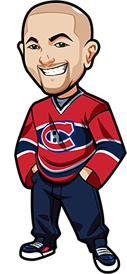 Written by Graeme on Tuesday, October 29th, 2013
Follow @BetNHL
An excellent night last night with the tips. We went 2-0 with the Bodog Divisional Dynasty, with both the Canadiens and the Canucks picking up the wins. We also went 3-1 with the tips. Depending on how and where you bet, it could've been as much as a 5-1 night for you.
Only the Wild let us down there and that was a pure value tip. Despite a hot debut from Moulson the Stars managed to grind out the win, and the Habs crapped all over the Rangers reunion with MSG. Away teams -0.5 won in probably the easiest bet we've had all season.
What a debut that was for Matt Moulson too. Hopefully that will spark Buffalo and maybe change their fortunes somewhat. On any other night they probably would have won – but you saw what this game meant to Lindy Ruff and the Stars played hard for them. Although we're not tipping them tonight due to the odds being so low, the Montreal Canadiens are a good bet to win. After an emotional game like that for the Stars they may be a bit slow(similar to a post-adrenaline rush), while the Habs stomped all over the hearts of New York and will look to continue that with a professional outing tonight.
Let's get on with the NHL Tips for Tuesday, October 29th 2013:
Bodog Divisional Dynasty: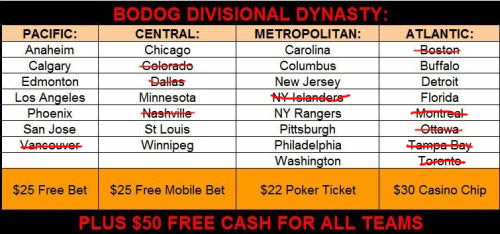 Tonight we have the Toronto Maple Leafs and the New York Islanders. These are also part of our tips – details below. Still not too late to sign up for the Bodog Divisional Dynasty.
Battle of New York: Islanders to Win
The odds are a bit low, but we have to go with the New York Islanders here. The Rangers are just playing horrible. They got beat last night in their return to MSG. Morale is at its lowest. Compare that to the Islanders, who have had a lot of very close games and a couple of big wins. They got blown out by Philly last time out, but we believe that was more due to the resurgence of the Flyers than anything else.
This is one of those picks where you have to take emotion out of it. Rangers are horrible right now, can't even score against a backup, have their main goalie back and still lose, and take on the Islanders who just picked up Thomas Vanek who will be in the line alongside Tavares and Okposo. Bet the Islanders at http://www.5Dimes.eu for Americans(Need to register to see lines) and and http://www.Bet365.com for everyone else..
Oilers vs Leafs: Leafs To Win
Our 2nd Bodog Divisional Dynasty pick is also an official bet today.
Leafs are riding the momentum wave after a huge win over the Penguins. They also managed to beat the Oilers 6-5 last time out in a game where they came from behind in the last minute. That sort of thing gives you some big momentum and confidence – if you do go behind, you have the self-belief to know you can turn it around.
Oilers are struggling like crazy. At home they're 1-3-0 and they've got big time goalie issues while Leafs have both Reimer and Bernier to heat things up. Clarkson is settling in and the Toronto offense match up really well against the Oilers. We're going with the Leafs here at Bovada for Americans and http://www.Bet365.com for everyone else. for 1.83 odds.
Flyers vs Ducks: Flyers to Win
WE BELIEVE PHILLY. WE BELIEVE.
Philly have strung together two wins – beating both the Islanders and the Rangers. They're starting to look better when they have the one-man advantage, which isn't good for the Ducks who have a crap penalty kill rating.
Of course, the Ducks are really good. They've had a lot of big wins and go into this one on a 2 game road streak, after losing the first 2 games of their road adventures. But they've lost Koivu. Not the biggest blow as he's only on 3 points, but it's still hard to lose a veteran. Flyers are pretty much all healthy, while the Ducks are banged up. Hopefully Penner and Perrault won't be back tonight – but even if they are, we've taken that into consideration.
This is going to be a tough one, but we believe in the surging Flyers and think this is going to be a key game that they can win and help shape their season. Back this for 1.90 odds at Bovada for Americans and http://www.Bet365.com for everyone else..
Follow @BetNHL
BetNHL.ca » Tonights Tips »