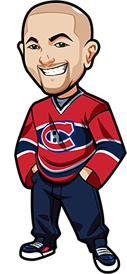 Written by Graeme on Thursday, November 28th, 2013
Follow @BetNHL
1-1 last night, as the Flames and Blackhawks lit it up in the 3rd period….but the earlier 2 periods not so much. Yikes. Our win was with the Habs over the Sabres as Montreal had a solid performance against Buffalo.
I'd also like to thank Toronto, because it meant I got to text, BBM, Whatsapp and Tweet the same phrase over and over to the 15 friends I have that are Leafs fans. "Classic Leafs." There's no two words that seem to get them in more of a rage. I love it.
What a great night of hockey that was though, and now a quieter one tonight with just 2 games on the board. Football takes all the attention today, and Happy Thanksgiving to all our American readers who are reading these tips on their iPhones while standing outside Walmart or some other big box store. Stay warm guys.
On the football note, if you haven't watched it yet you should check out The League. I just started it recently and man, I am hooked. Done 2 seasons in 2 days. Rafi is just unreal. Even if you know jack about football it's a great show – I got 2 friends into it when I was in Alberta who know nothing of the NFL, and my wife has been hooked on it too.
Remember the BetNHL December Contest. Free to enter – go, go, go! For those wondering even if both myself and Scott do win – we'll still be handing out prizes. We just want to enter to make it funner but neither of us are eligible for the prizes.
Oilers vs Predators: Oilers To Win
Oilers are on the road in Nashville, and the big story is that Bryzgalov is going to play.
Whether or not he will make a massive difference to the team is yet to be seen – we HAVE seen quality goaltenders change a teams fortune. But then you see them come in and yeah…..nothing.
Oilers looked great when he was on – and that's not just due to a 4-0 lead. They had a confidence in them and they felt a surge and they played like the Oilers of old. By "old' I don't mean the Gretzky years – I mean the 2 games prior to the Blackhawks game!
On top of that – Edmonton lost that goal so early against Chicago it really messed them up. Back the Oilers at 2.20 odds to beat the Preds at http://www.5Dimes.eu for Americans(Need to register to see lines) and and http://www.Bet365.com for everyone else.. And honestly with their forwards being on fire(minus the last game out), Oilers -1 under additional puck line at http://www.Bovada.lv for Americans and http://www.Bodog.eu for everyone else. isn't too shabby either for those who like a gamble.
Senators vs Canucks: No Pick
We don't have a pick in this game. After Ottawas big game night last night and all the goals plus I believe Anderson is in net this looks appealing for the overs. But the Canucks can be very conservative on the road – and after 2 losses in a row we could see them attempting to really stifle the Senators and keep this one tight.
Honestly it's a coin flip all around in our opinion. Whether you bet one team to win or the over/under – no wrong pick, no right pick – make the bet and enjoy some hockey.
Have a great night guys.
$25 risk free bets on player prop, in-game bet and $50 risk free mobile bet. Available for NEW customers only at BetOnline.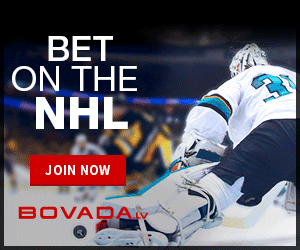 Follow @BetNHL
BetNHL.ca » Tonights Tips »