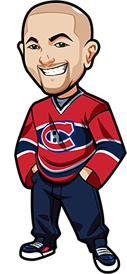 Written by Graeme on Friday, November 8th, 2019
Follow @BetNHL
A nice profitable night last night due to unit sizing, as our max unit play came in.
That was the Capitals/Panthers to go over 6.5 goals and that was a nice and easy one. Always nice when you have a bigger bet and it comes in so fast and easy like that. It ended up being a 9 goal clinic settled in OT.
We had the Coyotes and they couldn't win unfortunately at home to the Blue Jackets.
i also consider it a win that I stayed away from the Preds yesterday. Holy moley.
Kicking myself though as yesterdays poll was asking what games would go to OT, and I was planning on parlaying a few of the most voted games for fun. Unfortunately I never got round to it and 4 of the top 5 plays came in! That would have been about a 300/1 four fold. Ugh. I'll be asking that question again in the future that's for sure! Great work guys.
How about those Penguins? Comeback kings. Very impressive.
Tampa and Buffalo are playing Stockholm today. We generally stay away from those games. I'm tempted by the over with a bunch of Swedes playing for Buffalo, you'd think they would be up for it and want to put on a clinic. 6.5 is high though. Hope it ends up a good game.
We'll do the OT game poll again tonight.
[poll id="33″]
Hey does anyone remember the December contest we did a few years ago where you had to pick one game each month that a team would win? Holy crap looking back that was 2013. Anyway this was the post. If you're interested in that, or have an idea for a similar contest for December, let us know. Would be nice to come up with something cool.
Looking at the list of results it was pretty top heavy in regards to people winning. I wonder if we went with something more difficult like you need to pick a road game that a team wins. That might be fun.
Bruins vs Red Wings Betting Tips:
The Bruins will be looking to bounce back after just their 2nd regulation loss all season long. Last time they bounced back with a 3-0 win over the Devils.
The schedule has been kind to the Bruins of late as they have played the majority of their games at home. Just 3 of their last 11 games have been on the road including that Montreal loss.
So that's a bit of a concern. It's one thing to kill the league at home but they haven't looked as good away where both their regulation wins have came from. In all of their road games, they have only covered the -1.5 handicap once against the Rangers.
Still this is a team that is looking to bounce back no doubt. They're a proud lot and it's a tough spot for Detroit to be in. Detroit are pretty darn bad this year. 2-5-1 at home. Every single regulation loss at home has saw the other team cover the 1.5 point spread against them.
A lot of our betting tips involving the Bruins so far has revolved around Boston and their ability. But this one I am going with Boston based on their opponents more than anything else. Honestly this is one game where I probably would have stayed away if Boston won against Montreal. However I think that will fire them up just enough to make it a bet.
Bruins have a 42% empty net goal rate and Red Wings have a 57% GAA rate with an empty net too which is a slight factor.
0.5u on Bruins -1.5
Canada: 2.05 Odds at Sports Interaction (SIA) + free $20 bet.
USA: -105 Odds at GT Bets..
Everyone Else: 2.00 Odds at BetOnline..
(Odds correct as of 2019/11/08 8:42:27 AM EST but are subject to change.)
Non-NHL Betting Tips:
Written by Graeme
(All below systems are based mainly on mathematics and statistics with very little human input and are deemed experimental. Use at your own risk.)
OHL Betting Tips (3-6, -1.78u): 0.5u on Sarnia in regulation 1.65 odds. System likes heavy favourites Flint, Peterborough, Sudbury and London. Let's do a 0.5u treble on Flint/London/Sudbury all in reg at 2.15 odds.
WHL Betting Tips (3-3, +0.25u): 0.5u on Prince Albert in reg. 1.67 odds. 0.5u on Victoria Royals in reg 2.00.
AHL Betting Tips (4-3, +0.94u): 0.5u on Rockford IceHogs incl OT/SO 1.67 odds.
Where To Bet the Non-NHL Leagues:
Canadians: Bodog and 888 Sports.
Americans: Bovada.
Everyone Else: 888 Sports.
Follow @BetNHL
BetNHL.ca » Tonights Tips »