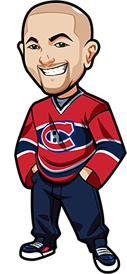 Written by Graeme on Sunday, October 13th, 2019
Follow @BetNHL
Happy Thanksgiving to all our Canadian readers! Hope you all have a good day and like me and Scott, use it as an excuse to get seriously drunk. If we aren't passed out drunk by the time the West Coast games kick off then we've failed as human beings.
We went 1-1 yesterday for a slight winning night.
Our win was with the Boston Bruins in regulation. I've said it before but that game was the perfect example of why it is important to have different accounts at different sportsbooks, and bet where the best odds are.
If you're only betting $5-$20 a game and the difference is 0.02 in potential profit then I can understand why you wouldn't bother. However all that adds up over time. The more you win at better odds, the faster you increase your bankroll so that you are betting bigger amounts.
And look at yesterdays Bruins win for example. If you bet $1,000 per game and placed that bet at B365, you'd profit $680. However if you placed it at Sports Interaction, you'd have profited $910.
That's $230 in additional profit simply by betting at a different sportsbook. Practically an additional 1/4 unit you have made.
So if you're still betting at just the one sportsbook, take the time to at least sign up at the different sportsbooks we recommend. Over the course of the season you're going to make a couple of additional units simply by choosing the best odds.
Our loss yesterday was the Sens/Lightning over. Another weird game by Tampa. Another frustrating game in terms of the over where the first period is goalless. And unlike the Panthers/Lightning win last week, this one kicked off in the second but couldn't get going.
The Oilers won yesterday to go 5-0 for the season. It's funny as most of my Leafs friends after the first game were like "just give us the cup" and sending me various messages practically masturbating over their team. Oilers are 5-0 and all my Edmonton friends are basically "We'll still be eliminated by December".
The Hurricanes finally lost! How about that? Good win for the Jackets.
It's a quieter day in the NHL with three games on the board beginning at 7pm EST with the Jets vs Penguins. Then we've got two West Coast games.
Unfortunately betting wise, it's an ugly night for me. All the over/unders are at 6.5 and with a bunch of B2Bers in there, I'm not feeling good about that. I'm also iffy about which teams can win the games as I feel it is close. Just going to do some analysis instead on each game today:
Penguins vs Jets: It's a bit of a makeshift offence for the Penguins but they came to life yesterday winning 7-4 over the Wild. That's just two games out of five this season they have scored more than two though. Jets started slow but turned it around against the Hawks so they might come out motivated for this one after that finish. The AHL guys are all trying to prove themselves right now so they will be more motivated than anyone on the ice. B2B might be too much for them but I'd lean Pens here.
Flames vs Sharks: Very close to backing the Sharks here coming off that first win. They'll be rested and the Flames are on a B2B. Having Marleau in might give them a new lease of life. However you can't just back them based on the one game. They still struggled prior to that win and have Jones in net who has struggled. Flames may be out here on fire tonight after that poor showing against the Knights.
Knights vs Kings: What a game that was for the Kings against the Preds. Super fun one. I'm always curious to see if a team can follow that up – give themselves that belief that they can always score late in the gae to turn it around. Knights are still a bit weird this season. Gallant called the team out and they had a better game against the Flames at least. I almost think the Kings pull off a sneaky victory here.
[poll id="9″]
Non-NHL Betting Tips:
Written by Graeme
(All below systems are based mainly on mathematics and statistics with very little human input and are deemed experimental. Use at your own risk.)
KHL Betting Tips (1-1, +0.25u): 0.5u on a Traktor/AK Bars incl OT/SO double at 2.22 odds. 0.5u on Traktor in reg at 1.70.
OHL Betting Tips (0-2, -1u): Sudbury came up in the system but no odds yet so have to see. Will post in comments if there is anything.
WHL Betting Tips (1-1, -0.2u): Ditto for Lethbridge. Will post in comments if there's a play.
Where To Bet the Non-NHL Leagues:
Canadians: Bodog and 888 Sports.
Americans: Bovada.
Everyone Else: 888 Sports.
Follow @BetNHL
BetNHL.ca » Tonights Tips »