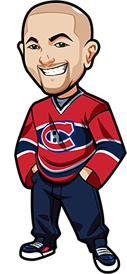 Written by Graeme on Saturday, October 5th, 2019
Follow @BetNHL
Every season, we always attract a lot of visitors who have never bet on the NHL before. First I want to say to them that if you have any "newbie" questions, no matter how dumb you think they may be, please shoot us an e-mail at betnhl.ca@gmail.com. We're always happy to help and will take the time to answer any and all questions.
Second if one of your first bets on the NHL was the New Jersey Devils to win….welcome to the world of betting on hockey!
That sort of thing will happen often in the NHL. Well – maybe not as obscene as that loss was; but you'll experience it a lot. Over/unders lost due to completely meaningless goals. Teams just not showing up. Bad decisions by referees. Challenges of goals (win or lose) killing a teams momentum. Injuries. Or one well timed goal just completely changing the momentum of the game.
You just have to take it on the chin. It sucks when that sort of thing happens but with more experience you'll get over it. I was laughing my ass of at the end of that game at just how ridiculous it was. I was pissed off as well of course – especially because I was leaning more towards the over – but I've learned over the years that you just have to shake things like that off. The worst thing you can do is react badly and go on "tilt" – basically attempting to chase the money you lost over one bet.
There's going to be many times this season where you lose bets in similar circumstances. However it usually balances out by the end of the season. Just have to roll with the punches.
I also want to mention that for most countries, including Canada, B365 offer early payout if your team goes up by 3 goals. (See the promotions section under "services"). Now that's ONLY on the money line so it wouldn't have factored into the regulation bet. However if the odds are equal for a money line play, it makes sense to bet it at B365.
On the topic of the game – while the goal before the end of the 2nd was a momentum shifter; I think a good part of the blame falls on Hynes. This sort of thing may be a one off this season but I am not too sure; I get the feeling there is going to be more heartbreak for Devils fans, and you'll be able to point the finger at the coaching. Either way though Devils games will be fun to watch.
Leafs won. What a team. That first goal. The passing. Amazing. In saying that I was impressed with the Jackets. I was curious how they'd be after losing some players but I think they looked solid in this game. The scoreline really didn't fully reflect the game. Leafs are just ridic at times.
It's Saturday and we've got a lot of games. I do want to just stick with the one tip for another couple of days however. Let the teams shake off some rust, get some games under their belt etc.
I'm almost tempted to hop back on the Devils train tonight. They opened as underdogs and the line has kept going against them and I dig that. I liked what I saw and I think the way they lost will help them gain focus tonight. In saying that you wonder if it's the opposite. We've seen that before with teams too. Like I've said it's a guessing game at this point for a lot of the teams.
Was very tempted by the over in the Leafs vs Habs game. However Leafs are on the 2nd leg of a B2B and last season they didn't fare too well in those. Not sure how competitive they'll be.
Canucks line might be value at around 2.70. They could be a real sleeper pick early in the season.
Rangers/Sens over is tempting. Sens are one of those teams where there is going to be a lot of strong individual play over the season.
Panthers vs Lightning Betting Tips:
The last time these two teams played back to back to open the season was 2017-2018. Tampa won the first game 5-3 then the Panthers came out swinging the next night and won 5-4. I'd expect a similar fiery game like that.
Tampa have a point to prove. It's why we backed them in the previous game. They were able to keep the Panthers top line off the scoreboard in the first game but I don't think they'll be able to go another 60 doing that.
Panthers will be looking to bounce back strong in their home opener and they will be up for the game. Two teams with a real will to win.
I think this game has a lot of promise for goals and will be betting accordingly.
0.5u on Over 6.5 Goals. (I can't remember if we mentioned it but we bet in terms of confidence. 0.5u, 1u and 2u are our betting amounts. Most bets are 0.5 and 1.)
Most sportsbooks don't have the line for this one up yet for some reason. I'm heading to Ottawa early today so have to get the tips up so be sure to check our list of sportsbooks compare hockey odds and shop around for the best line.
Canada: 1.95 Odds at Bet365 (Americans: We recommend http://www.bovada.lv.
USA: BetOnline. often has best O/U odds
Everyone Else: 1.95 Odds at Bet365 (Americans: We recommend http://www.bovada.lv.
(Odds correct as of 2019/10/05 7:36:26 AM EST but are subject to change.)
Follow @BetNHL
BetNHL.ca » Tonights Tips »