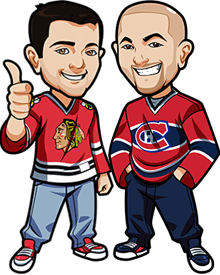 Written by Graeme & Scott on Wednesday, June 4th, 2014
Follow @BetNHL
It's June 4th, 2014 and it's time for the Stanley Cup Final for the 2013/2014 season.
It's quite the surprising Stanley Cup Final. No-one would have expected either team to get there, never mind both teams. The Kings had a very tough list of games to navigate – beating the Sharks, Ducks and of course the Blackhawks to get there. That is quite the list of teams. Of course it isn't been easy, with every series being a series from bizarro world with teams getting hammered, crazy comebacks and crazy results full of ridiculous goals.
Then there's the New York Rangers. These guys are getting quite the raw deal. They managed to defeat the Flyers in what was always going to be a very tough series. They defeated the Pittsburgh Penguins, but all everyone talked about was "Pittsburgh lost the series", not that the Rangers won the series. Finally they beat the Canadiens, a tainted win due to the loss of Price. However Tokarski had an excellent series as his replacement and the Rangers honestly dominated the Habs in almost all of the games.
So it's quite the interesting series. Before we get to analyzing it, Graeme has launched a World Cup Betting Tips site for anyone interested in that. He's adding content to it every day and there's currently group predictions up and a few match betting tips. You can see it all at http://www.WorldCupBettingTips.org.
Also remember that we analyzed and provided a bunch of betting tips for props yesterday. You can read that here.
Okay, let's get to analyzing this series:
Kings vs Rangers Series Betting Odds:
Kings to win Series: 1.60 odds
Rangers to win Series: 2.45 odds
Check out http://www.Bovada.lv for Americans and http://www.Bodog.eu for everyone else..
Kings vs Rangers Series Betting Tips:
Graeme: I've been monitoring this line hourly, hoping to see some big action on it to force the Rangers odds to go up. Unfortunately I'm not seeing that, as the money isn't going on the Kings as much as I expected.
I'm going with the New York Rangers to win the series.
I like the way the Rangers play. I think they are an excellent team, who blend really well as a team. Everyone puts in a strong shift and they work extremely well together. You've also got Lundqvist who has a 2.03 GAA going into this series over the playoffs. People go on and on about Quick, but Lundqvist has been phenomenal as well.
I just like the Rangers too much as a group. On paper they're maybe not the better team – but watching the playoffs, that's who I want my money to be on.
My plan is to bet on the Rangers to win the series, and put additional bets on if the Kings win Game 1 to help the odds go in my favour. If you're going with the Kings – I think they win it in dominant fashion so a bet of Kings in 5 games would be valuable. But I'm sticking with the Rangers, and I think they'll grind out the win.
.
Scott: Should be another great series. But you have to wonder how much each team has left in the tank. The Rangers have played 20 games up to this point while the Kings have played 21. The Kings are looking to win their second Stanley Cup in 3 years after winning it in 2012. The Rangers are in the finals for the first time in 20 years when the won the cup back in 1994.
The split the season series 1-1 with both games coming in under 5 goals.
Although Lundqvist gets the nod over Quick, the Kings will put up goals. I think the Kings forward depth will determine this series. Gaborik, Carter, Kopitar, Brown, Richards, Williams, Stoll, Toffoli the list is long. Look for Gaborik to take some revenge on his former team and have a monster series.
Bet the Kings with home ice advantage. My guess is Kings in 5.
.
Summary:
Both of us have conflicting opinions on who will win, however we both agree that if Kings do it, they do it in 5 games.
What do you think? Post in the comments below.
Follow @BetNHL
BetNHL.ca » Tonights Tips »