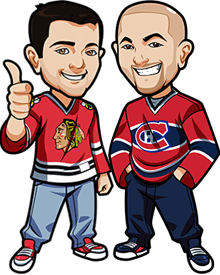 Written by Graeme & Scott on Tuesday, February 11th, 2014
Follow @BetNHL
It's Olympic time baby! The NHL season is now on a break for a couple of weeks for the Olympics. Of course, BetNHL.ca will be your ultimate resource for Olympic Betting Tips….well, when it comes to the hockey anyway. We've both sat there and watched the figure skating, applauded at the amazing skills and then saw the judges only give them a 6.2. Yeah – that's not our sport.
So hockey it is, and on Wednesday February 12th the Olympic Hockey season kicks off. Group C in particular – the Czech Republic take on Sweden, and Latvia take on Switzerland.
Before we get into the betting tips for Wednesday, we want to take a minute to mention something really sick we did. We edited NHL 94 for the Sega Genesis, and added in EVERY Olympic team with accurate rosters and everything. Updated the jerseys etc – then simulated the WHOLE Olympic tournament out on it.
We really do have too much time on our hands.
So you can see that by clicking here and we would love likes, shares etc. That whole she-bang took us over 30 hours. 30 drunken hours mind you – but still, 30 hours! A lot of work.
For fun – we are going to use those simulation results at the end of each tips post. We're going to place additional bets BASED on the NHL 94 simulations just for the hell of it – feel free to join in, because hey who knows hockey better than a 20 year old video game?
Anyway – onto the tips:
Czech Republic vs Sweden: Sweden to Win In Regulation
Honestly – when we first started talking about this game, our mindset was "We'll go with the Czech Republic". But after discussing it for awhile – we have to go with Sweden.
Even without Hank, the Swedes are still just stacked. They have so much depth that they are clearly worthy of being the favourites to win this group. It's when you compare defenses too that you really see where the gap is. I mean – look at the Czech. Who is their best D? Kaberle? We love the guy – but that says a lot.
You could go with the handicap, but with it being the opejning game and all – let's play it safe and go with Sweden. 1.77 In Regulation at Bovada.
Czech Republic vs Sweden: Zetterberg to Score Anytime
3.00 odds on this one. He's expected to be the top line center with Steen and Landeskog on the wings. He's going to have plenty of opportunities. And apparently Pavelic isn't even starting either.
Back this one at Bovada.
Winter Olympics Hockey Contest:
We'll extend this for a few hours due to the traffic we're getting from NHL 94. Get your picks in now – see this post for information. Although Graeme & Scott can't actually win it – we'll post our actual picks in the comments below. We'll have the leaderboard created Wednesday or Thursday evening.
NHL 94 Based Bets:
Based on our NHL 94 simulations, we are betting:
Cunti to score anytime at 3.00 odds.
Czech Republic to win 2-1 @ 13.00 odds
Switzerland to win 3-0 @ 16.00 odds
All at Bovada except the correct scores which are at Bet365 (Americans: We recommend http://www.bovada.lv.
Follow @BetNHL
BetNHL.ca » Hockey Betting Tips »