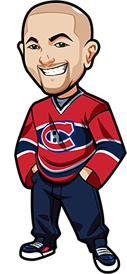 Written by Graeme on Thursday, October 4th, 2018
Follow @BetNHL
First my apologies for the delay today – got caught up with something that kept me busy most of the day. For new visitors – tips will usually be up by around noon EST but occasionally will be late.
Well it was a very disappointing start to the NHL season from a betting perspective, as we went 0-3.
One thing that's very important is not to run from your losses. No "we'll get em next time" and move on – always take the time to address your losses. Look at them and see what mistakes you made and then learn from them going forward. Also in the games you didn't bet take the time to look at them and see if there was a missed opportunity betting wise.
This is the type of thing that can make you a winning sports better long term. Or hey – make you realize you suck and that it's time to quit 😉
Honestly looking at all three tips I think it can be summed up in two words: baseless overconfidence.
Usually we approach the season with extreme caution. Yesterday it was the opposite – especially with the Leafs and Sharks picks. While the pre season expectations from most analysts and the media will most likely prove true over the season – Leafs, Sharks in playoffs, Habs, Canucks bottom 5 – there's so much more to consider in the opening season.
The thing is after going through all the games yesterday I think the best we could have went is 0-2. In retrospect the Flames pick was the one pick that we're really thinking "that was a bad pick". It was due to our confidence level – we felt so confident about Leafs and Sharks and that affected that pick. We've looked it over and nope – we still think we would have went with Leafs and Sharks.
The only differences would be that we'd go with Leafs in regulation instead, and we should have bet smaller units. I mean even looking at it retrospectively we would have still went with the picks – hell our confidence just grew the more we looked at the Sharks-Ducks game even knowing the result.
Then there's the Caps. Always good to look at the games you DIDN'T bet and see if there was something you missed. I mean early in the Caps game I was thinking "should have bet them" but rather than just sit there regretting it, I looked it all over again yesterday to see and despite knowing it was a blowout, we couldn't convince ourselves it was the right play. The two biggest factors were Holtbys record against the Bruins and the fact that the Caps are a team that thrive on motivation. When they have that motivation they always seem to pull it out. It just wasn't enough for us with a lot of questions and despite the result, we're not regretting that one.
However it was all a nice reminder that at this stage of the season we should be betting smaller. Teams need time to gel. There can be rust to shake off. There's big factors such as expectations, no expectations, overconfidence, motivation etc.
Then of course there's the variance in hockey. I mean don't get me wrong – the Leafs put in a BAD performance last night. They weren't creating plays they were reacting to them. They couldn't transition. They looked like they were half asleep – sitting on the puck thinking they had all this extra time. However despite all that Price had to pull off a few elite level saves to keep them out. Flames had 7 power play opportunities to get the goals. Sharks – man I dunno what happened in that third period but they just fell apart. However despite the result they looked good and you can already see they're going to be there or thereabouts at the end of the season.
Finally this is a nice time to remind you how bankroll management is important. One thing we do each day is browse forums, reddits, social media accounts etc to see who is betting who and see if we're missing out on anything or what the general consensus was. It was hard doing that today seeing people FREAKING because they were also very confident on the Leafs and Sharks and lost a LOT of money as they have no bankroll management.
I've written this article and this article on bankroll management before and there are a lot of great resources around the net on it. If you're not practicing proper bankroll management and you had a rough night last night – make that the lesson you take away from it all.
Last night sucked – but for us it was only a 4u loss and our personal units shrink in contrast with our bankroll. So it's not that big a deal financially – and means I won't feel bad about rushing out and buying a Domi jersey today! Seriously one game and I'm already thinking that kid is going to be an all star ha. He just seemed to fit in so well with the Habs.
Oh and one final thing – don't let the previous nights results or outcomes taint your bets the next day. Last night we saw 2 of the most hyped teams lose or undeservedly win. We saw 2 teams who have been written off as bottom 5 teams come out and either deserve to win, or actually win. Don't let that type of thing affect your thoughts the next night. They're not related. Just like how 3 of the 4 games went Over and the other probably would have if not for some great goaltending. Doesn't mean tonights will all go over. That's one of the biggest mistakes I see from people betting sports. Don't go betting 100u on the Sens tonight or anything.
Blackhawks vs Senators Betting Tips:
Unfortunately after much consideration we've decided this will be the only tip of the day as we let the teams get a game under their belt.
There are teams we want to tip but the odds are too low to bet the money line(Preds, Hurricanes) and at this stage of the season it's hard to really have confidence with them in regulation. There are just too many questions. Looked at what some others were betting and it just feels like a lot of guesswork and hope and forced bets. After the pounding last night, we don't mind making it a quiet night!
This will be a 0.5u play and it will be Blackhawks to Win Incl OT/SO.
Not much is expected from either team this season but the Senators dressing room and office is just a toxic place it seems. Hawks will want to come out and prove they're capable of winning and there seems to be a fair bit of optimism around them. Hearing the enthusiasm from someone like Jokiharju for example is awesome.
There'll be lots of tips in the comments I'm sure so be able to check them out and we're happy to give our opinion on any specific games within the comments too.
Non-NHL Betting Tips:
KHL Betting Tips: I REALLY hate going with 3 road games but the system likes Mettalurg, Avtomobilist and CSKA. You could either throw two in a double or go with three in a treble I'm going with the treble. 0.5u bet 2.63 odds.
Czech Extraliga Betting Tips: 0.5u on HC Verva Litvinov.
Non-NHL Betting:
Canadians: Bodog and 888 Sports.
Americans: Bovada.
Everyone Else: 888 Sports.
Follow @BetNHL
BetNHL.ca » Tonights Tips »